It's always nice to have some diversity in your closet. Regardless of what your main aesthetic is, there's always room for some rock & roll in your wardrobe! Luckily, you don't have to look far to add that bit of edge to your look – just go to ASK Fashion!
CEO founder and Creative Director Amanda Koker wants you to find your inner Rock Star with ASK Fashion.  
I first met Amanda at Full Figured Fashion Week and reconnected with her at Boston Curvy Fashion Week. I was extremely impressed with her collection at both shows and have to admit that her designs summoned my inner punk princess ; P
Check out our Q&A with this designer for the curvy girl who rocks!
asdf
Natasha: Who is your ideal customer?
Amanda: My ideal customer is a woman who goes after what
she wants. She is bold and unapologetic. She knows she deserves to feel sexy and fierce and will accept nothing less. She has hard edges to her, but also has a soft side. She works hard and plays harder- going to the office during the day, and a rock concert at night.
Natasha: What are the top 3 complaints women have about current plus size clothing?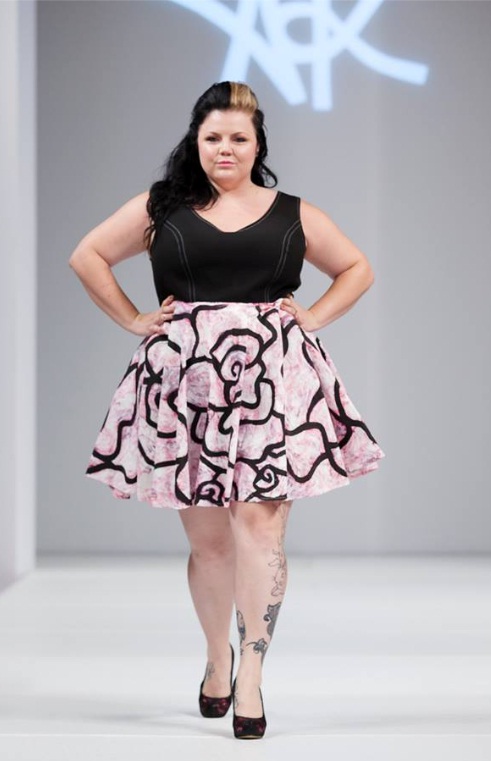 Amanda: The top complaints that I hear what women have about current plus size clothing is that the fit is poor and the taste is even poorer. Not everyone wants to wear tight fitting dresses, (body-cons) or buy something that will soon fall apart (poor quality). Bad fit is the #1 reason for a customer to not return to a brand. Fit is very important to my brand and company- no one fits you like I do. All of my clothing is strictly made only in America- I stand behind our quality fabrics and manufacturing. When you buy a dress from me, you buy quality, fit, and kick ass style you won't get anywhere else. Style is just as important. My customer does not want to fit in with the crowd- she wants to stand out, and not only feel good, but look good as well.
Natasha: What is most important to you when designing clothing?
Amanda: Several things are important to me when I design it's hard to narrow down just to one. My fit, my fabrics and my functionality are an important part of my design process. All of these things will determine how my customer feels in my clothing. How it fits, what it looks like, and how it will accommodate her needs during the day are all very important parts of designing my clothing.
Natasha: Is it hard to be a designer?
Amanda: I am going to quote one of my favorite movies of all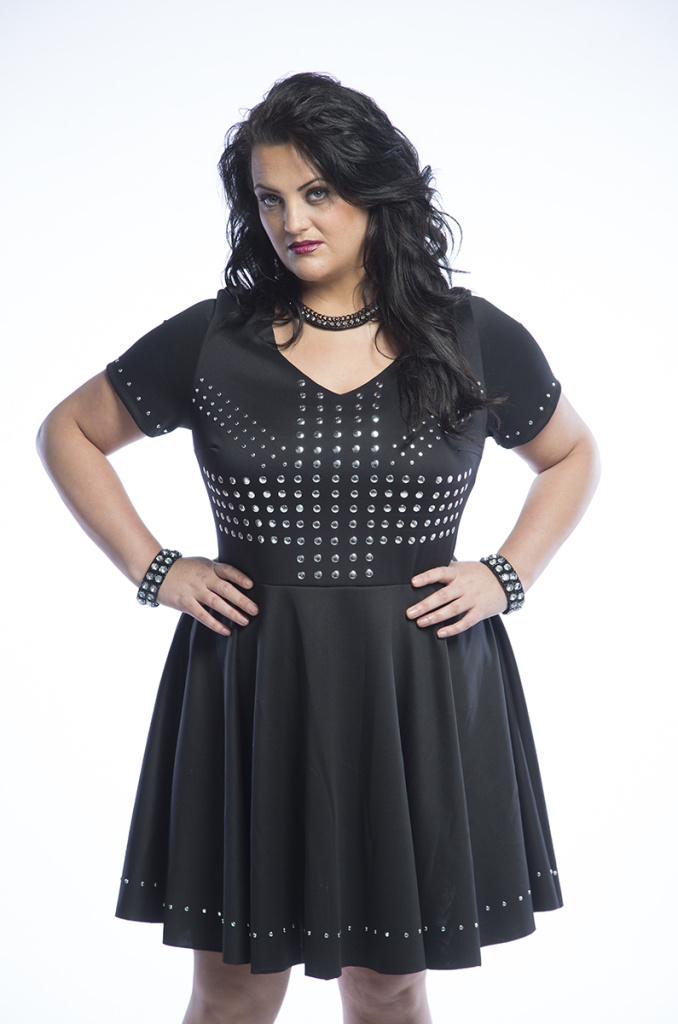 time- "A League of her Own". Tom Hanks is asked why the game of baseball is so hard, so much so, that it brings one of the best female players of the game to almost quit. In response Hanks replies "It's supposed to be hard. If it wasn't hard everyone would do it. The hard is what makes it great." I truly believe that; like anything you choose to do it. You do it because you love it, because you can't imagine doing anything else, because there is an inner need and desire to do it. You do it because you have to; so you take the good and the bad, the hard and the easy all together because it's part of the package. If it wasn't hard, it wouldn't be worth it.

Natasha: What is your favorite clothing you have made so far?
Amanda: It's hard to just narrow down to one, but my favorites are always my jackets. I am launching a full jacket line next fall. Stayed tuned! I love adding small details to jackets that really make them pop and add some fun and sophistication. Every collection I make always ends up being my favorite- so I guess my favorite is the collection I am currently wrapping up Spring 2016.
Natasha: What are some misconceptions consumers have about plus size clothing?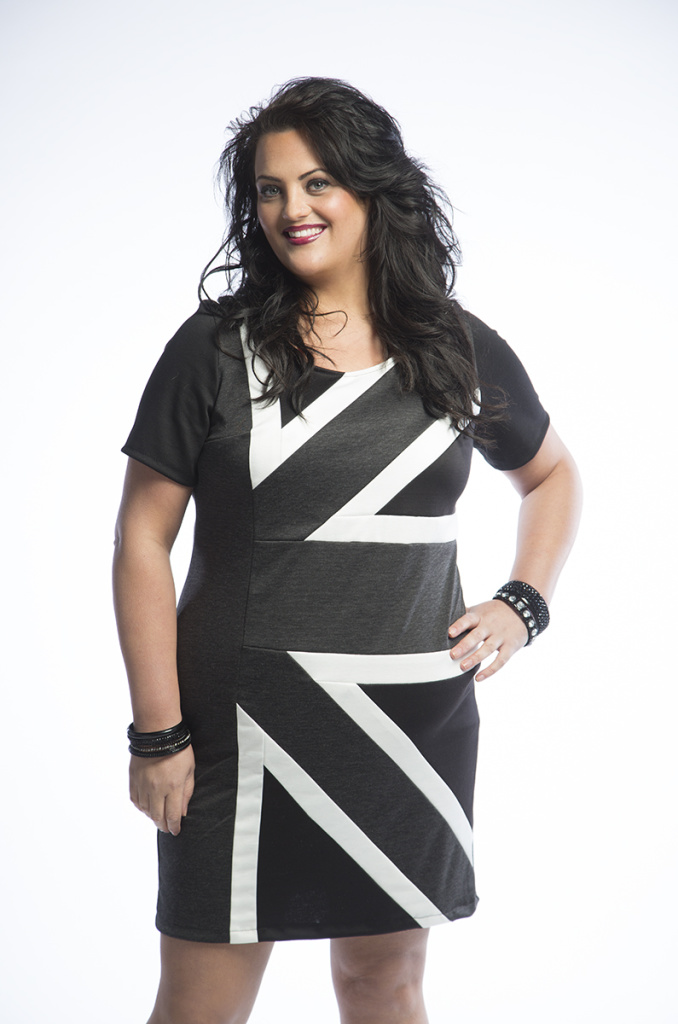 Amanda: Some misconceptions consumers have about plus size clothing is that it can't be form fitting or stylish, and that one size fits all. Lots of retailers, who have jumped on the band wagon of plus size clothing, clearly don't get it and it's apparent in their clothing. Not only is their sizing all wacky, but they don't understand how the plus size body changes, and the many different ways a body shape can change. It's clear to me that most mass retailers don't want to understand me- the plus size customer- they just want to offer me clothing as an afterthought, and frankly it makes me angry. That's why I took fashion into my own hands and created my own plus size fashion line. My needs were not being met. I want stylish, well fitting, quality clothing; and that is exactly what I make.
Natasha: When people think of ASK Fashion, what comes to mind?
Amanda: When people think of ASK Fashion my hope is that they associate my brand with quality, and kick ass style. We are digging deeper, and re-launching next year with an even better name and more specific focus.  
Natasha: What advice do you have for plus size women when creating or enhancing her style?
Amanda: My advice would be to listen to her instincts and go with her gut when trying to create personal style. I feel style is a reflection of a person's sense of self, and that can only come from within. Personally I dress how I feel; if I just want to be comfortable and warm in front of my sewing machine I will throw on my cartoon slippers, a pair of leggings and an oversized sweatshirt- because I can. At that point all I want to be is comfortable because I know I am working. When I go out, I also want to be comfortable, but more stylish and put together. I might put on a knit dress for comfort, paired with leggings and boots; I just love boots. That's just who I am.
Natasha: What are questions you think customers don't ask big box retailers?
Amanda: I think customers in general aren't demanding enough from their retailers. I understand that we have to be price conscious, but at what cost. I believe firmly in Made in America because I believe in investing not only in our economy but in the American people. I wish consumers realized (and I do believe they are beginning to realize) the impact that their purchasing power has not only on the economy but on the environment as well. Consumers need to be asking for better goods, made ethically and sustainable; if we don't demand It from our retailers, the retailers won't change.  
Natasha: What are your inspirations for your designs?
Amanda: Every season my inspiration for my collections comes from a different place.  Sometimes is music, sometimes a movie, or sometimes just something I want to do. I also try to experiment with different techniques and push myself to create the best clothes I can. My customer is always a very important part of my design process. Listening to her wants and needs while putting my own spin on things I think keeps it interesting.

Natasha: What advice do you have for aspiring plus size designers?
Amanda: My advice would be to go for it. Design because you need to, because you have to feed the fire inside you. Don't let the industry discourage you- and be confident in who you are and what you are trying to do. I feel if more people supported each other and helped each other, we as a society would grow and succeed so much faster. I would also say to keep learning, and dive right into the business. Find a good mentor and go out and meet people; network! Get out from behind your computer and just go do it.
Natasha: What is the best advice you have been given?
Amanda: The best advice I have ever been given has been sometimes it is best to step away from a project or garment and come back to it. Also to make sure to get some sleep. You will spend twice as much time on something when you're tired, versus when you are awake and ready to work. Take care of yourself and then take care of the work. Give yourself a break from time to time and listen to your instincts. Let go, and let the process happen- that is probably the best and one of the hardest lessons I have learned as a designer.

Natasha: Worst advice you have heard?
Amanda: The worst advice I have ever heard was "the clothes aren't the problem, you are". This was a harsh reality from a past professor who from my perspective was living in the past. In hindsight what she meant was, not all clothing is made/constructed the same way, and thus will not always fit the same way. I think her way of thinking Is backwards in the sense of the old saying "you change yourself to fit the dress". Whereas today and how I feel, "you find the dress that fits the way you are".  It's not about changing who you are- but embracing it.; being comfortable in your own skin.

Natasha: What should we expect from ASK Fashion?
Amanda: You can expect big things from me – Amanda Koker, and my Made in the USA, Kick Ass Plus Size Fashion Brand and Company. I have big things planned over the next year- stay tuned as we re-launch and expand out offerings! We will be bigger and better than ever!