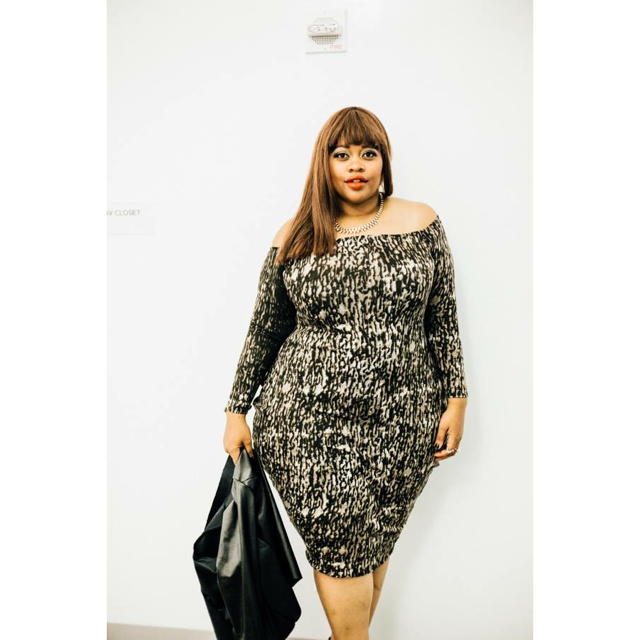 You may know Sabrina from Lifetime's Big Women:Big Love but she's also a stylist and visual merchandiser formerly based out of Brooklyn, NY (currently loving the warmth of Florida). She loves everything from fashion to comic books. Sabrina studied improv at UCB, was featured in an award winning episode of the web series Method or Madness, was in a sketch and improv group, and her styling work has graced the cover of Curvysta Magazine. She is also a plus sized model and is signed to Bicoastal Model Management. She has been on the cover of Curvysta Magazine and WMDSF Magazine. She's a jack of all trades! Being the youngest of three (and the only girl!) taught her how to make her voice be heard. Never shy, and always opinionated, Sabrina believes in uplifting ALL women!
Check out my interview with this vivacious star!
Natasha: What do you want people to think of when they think of you?
Sabrina: I am super positive, confident, and supportive of everything!
Natasha: What is the story of how you joined the cast for Big Women: Big Love?
Sabrina: I was dating someone. I knew on the second date it was clear that we weren't going anywhere. So, I went to Twitter to discuss my thoughts and how I was feeling about everything. A guy on there saw my complaints and suggested that I go to the casting. So I went! A week later I got a call back.
Natasha: Did you always want to be an entertainer and appear on television?
Sabrina:  Always! I grew up loving fashion and I did theater where people always to be me that I needed to be on TV.
Natasha: Is there anything you wish you knew before joining a television cast?
Sabrina: I wish I knew how horrible I was at dating on TV.
Natasha: What was it like having to reveal your life on TV?
Sabrina:  It was great! I was at home, around friends and I got to be myself. Being an actress, being on screen or in front of cameras didn't bother me.
Natasha: What should viewers take from the show?
Sabrina: Showing America what dating is like for plus size women around the world.
Natasha: How has the show helped you personally and professionally?
Sabrina:  Personally, I have learned that I do not want to go out with guys not for me and learn to stand up for myself with men. Professionally, I have been fortunate to do more modeling, public speaking and speaking with children.
Natasha: Generally speaking, why do you think it is so hard for a plus size women to date?
Sabrina: People make a lot of assumptions about plus size women. People think we are all desperate but that is not true.
Natasha: What are some challenges you have dealt with when dating?  
Sabrina: Being confident with myself and letting myself just be me! I have needed to look more at the way I want things.  
Natasha: Who is your ideal man?
Sabrina: He is not a liar! He will make time for you and prioritize me.
Natasha: What would be your perfect date?
Sabrina: Going to a dive bar and getting a great burger.
Natasha: Generally, what are your thoughts on the dating world?
Sabrina: Things have gotten harder because people won't call each other anyone. Everyone wants to text you or send you a facebook message. And, it is much easier to misinterpret a text.
Natasha: How would you advise other women who want to date but feel self conscious about their size or weight?
Sabrina: It is in our head! If a guy comes up to you then he wants to speak with her. You don't have to question that. We need to get out of our head.
Natasha: How did you come to become comfortable with yourself?
Sabrina: In my 20's I decided that this is what I look like and I needed to live my life now. I didn't want to be miserable so I choose to be happy and accept myself.  
Natasha: What are your sources of empowerment?
Sabrina: Friends and Fashion! Once, I realized that is okay not to look like everyone else and I could be myself it was very empowering! Finding my personal style really helped to uplift me. Early on, I taught myself that you have to find the beauty in yourself.
Natasha: Why do you think it took so long to have more plus size focused television?   
Sabrina: The entertainment industry is finally seeing it. The average size of a woman is a 14. I am glad they are finally catching on. The plus size community is awesome!
Natasha: What are your plans for the future?
Sabrina: I would love to have a book about my story. I want my own fashion line in the near future and a confidence camp for plus size women and young girls. I want to do everything!
Natasha: Do you have advice for others who want to get into media/entertainment?
Sabrina: People have to understand that things don't happen overnight. Look at how many actors that did not  become famous until they were 40 years old. It takes hard work and you can't give up!
Natasha: What are three things that people don't know about you?
Sabrina: 1 – I used to breakdance. That ended when I broke my arm
2 – I played a lot of sports – basketball, lacrosse, volleyball  
3 – I used to be really shy.   
Natasha: What book have you recently read that you liked?
Sabrina: This Book is Full of Spiders. It was scary and funny!
Natasha: Where do you see yourself in 20 years?
Sabrina: I am retired, rich, with a cat and a cute dog and a walk-in closet. I plan to be super happy!
Reading this, I hope you are just as happy as Sabrina is! She is a force of positivity, strength, and inspiration to embrace and love ourselves!
Sabrina is definitely a star you want to follow and support!
You can follow her on: