This post is sponsored by StudioTen31. This post also contains affiliate links. That means if you click on a link and buy something, Dressing Room 8 will earn a small commission from the advertiser at no additional cost to you. 
"Hair brings one's self-image into focus; it is vanity's proving ground.  Hair is terribly personal, a tangle of mysterious prejudices." – Shana Alexander
Hair is something that has always equally fascinated and frustrated me. There are so many different styles and products that you can use, yet, so many of us play it safe and stick to the same hairstyle or products year after year. When I learned that I was going to interview Stephanie Jones (Celebrity Master Stylist & Owner of StudioTen31) & Sasha Imani (Celebrity Natural Stylist) I was BEYOND excited!!!!  
Meet the Celebrity Stylists
Meet Stephanie Jones
Stephanie was born in Queens and raised in Long Island, where she attended Freeport Public Schools. Since she was an adolescent, she expressed interest and demonstrated skill in hair styling. She went on to earn her cosmetologist license in 1996. Since then, she has provided customers with a full range of hair care services, building a strong client base, and performing administrative duties, as well as operating her own hair salon since 2004. She became a licensed esthetician in 2006.  StudioTen31 has been open since 2013. 
As a cosmetologist, she has mastered styling, hair extensions, wig-making, cutting, coloring, relaxing and perming, weaving, and hair repair. Her work has appeared in the following print media: Sophisticate's Black Hair, Hype Hair, New York Hair and Style, Black Fashion, Mazza, and Ritz Carlton Magazine.
Ms. Jones' esthetician expertise includes (but is not limited to): Certifications in Eyelash Extensions, Microdermabrasion, Advanced Skin Biology, Chemical Peeling, and Advanced Techniques in Skin Care Makeup (Jane Iredale Mineral Makeup Masterclass). Stephanie holds additional certifications in tricology and from Dreamcatcher's Strand by Strand, Edge Beauty Academy, Master Cutting Class, and Platform Artistry for Organic Root Stimulator/Softsheen.
During her career Stephanie became an expert wig maker, first creating wigs for her customers who were battling cancer or who suffer from alopecia. This work has evolved into creating wigs for clients who want protective hairstyles. Overall, her passion for wig-making serves a diverse clientele, with the goal of providing clients with a range of aesthetic options for hairstyles. 
Meet Sasha Imani
With 8 years of professional experience in the beauty industry, Sasha is specializing in new trends concerning natural hair care and protective styling. Hampton University graduate, Sasha is a traveling celebrity hair artist hailing out of Hampton Virginia by way of Uniondale and based in Baldwin at StudioTen31 on Grand Avenue. Specialty services are offered on an appointment only basis for all special occasions as well as regular maintenance and styling including but not limited to; blowouts/ silk wrapping, extensions of all kinds, Goddess Faux locs, natural hair braiding, custom coloring, precision cutting, undetectable wig making, loc maintenance and styling, crochet braids, sewn in weave, fusion extensions, foil highlights (full and partial), updo styles, rod sets, natural hair transitions, (relaxing) permanent straightening, and the list goes on. On numerous occasions, Sasha has collaborated within the New York Fashion community including Dapper Afrika Media Group. Sasha is committed to continued education in the health and beauty field and stands by the motto "Healthy hair is Happy Hair." She is now also available for All-Natural Hair Removal (Sugaring). All of her consultations are completely free.
Natasha: What is the founding story of Salon StudioTen31?
Stephanie: I founded StudioTen31 on Nov 21st, 2013. After owning 2 previous salons, Strands Hair and Spa and Strands Hair and Bridal, my vision had to evolve considerably.  I aspired to create an environment that was an expression of me with a sophisticated city vibe and a chic name.  StudioTen31 was born and coincidentally we share a birthday.
Natasha: What attracted you to the beauty industry? 
Stephanie: I was always drawn to this industry; starting in HS and progressed until now. I pursued an educational path in 1989 but it was cut short due to unforeseen circumstances. My good friend Andrea Chase, inspired me to reinstate my educational journey in 1994 resulting in my cosmetology license. As a young mother going through many obstacles I was able to nurture my passion and fulfill my dreams.
Natasha: What has been the most meaningful lesson learned from starting Salon StudioTen31?
Stephanie: There have been many lessons learned throughout my years in this industry. Presently, at StudioTen31, I can honestly say that finding and surrounding myself with people who embrace my vision has been a challenge.  Over the years, my vision for success has grown exponentially. I draw to people that I can mentor and uplift, hopefully, to encourage them to pursue their dreams.  My philosophy is that I can have separate dreams but still grow at the same time.  Finding individuals with that understanding, drive, and passion has been difficult at times.
Natasha: What are the services offered at Salon StudioTen31?
Stephanie: At StudioTen31, we offer a myriad of services for all hair types. We take pride in ourselves in knowing the client's needs and wants.  We analyze hair types and suggest the best and healthy course of actions.  Our services range from various length weaves and braids to custom wigs and relaxers.  We cater to natural hair as well; specializing in TWA's, Locs and crochet braids.  Our primary goal is to cultivate the healthiest hair possible for our clients.
Natasha: What are the most commonly requested hairstyles or services? 
Stephanie: Because we take pride in assessing the client's hair and suggesting the appropriate style, many of our clients are opting to go natural. They are cutting their relaxers out and allowing their hair to "Breathe".  Natural styles can come in many different forms and our clients are exploring them all from short afros, to beautiful color, to long and flat ironed.  We also have a clientele that prefers weaves.  The majority of the weaves are custom colored.  We offer extremely high-quality hair and do extremely professional installs.
Natasha: What are self-care tips most women are ignoring when it comes to their hair?
Stephanie: I have observed that many women are unaware of their body chemistry and how it affects their hair. Medications, hormonal issues, natural female cycles and lack of supplements can alter the thickness and growth rate of a woman's hair.
Sasha: Some self-care tips that many women are ignoring when it comes to their hair is regular routine treatment and trimming. A woman should treat and trim her hair every 6 to 8 weeks; also, remember that protective styling should be kept in for a maximum of eight weeks. Do not exceed eight weeks! With the same protective style, be consistent with your hair routine. Stay hydrated inside and out. Always address any hormonal fluctuations as our hormones have a lot to do with the overall health of our hair skin and nails. We can't emphasize this enough, when it comes to your natural hair…moisturize…moisturize… moisturize! And, always see a licensed professional for your treatments, trims, and chemical processes. 
Natasha: How often should a woman cut her hair? 
Stephanie: There is a difference between cutting hair and trimming it. If a woman's hair is relaxed, she should trim her hair every 4-6 weeks.  If a woman is wearing her hair natural she should trim her hair every 6-8 weeks.
Natasha: What advice do you have for women who want to change their look, but they don't know what to do?
Stephanie: For a woman who is thinking about changing her style, I recommend a couple of things. First, they should consult with their stylist to see what is appropriate for their hair type. After the consultation, different styles and colors can be considered.  I suggest that after the choices are narrowed down the client can go to the wig store and actually try on wigs of similar styles and colors.  This will give the client a realistic view of what the color and style might look like.
Natasha: What are the best styling tips for women with curly hair? 
Sasha: The best styling tips for a woman with curly hair is Before styling de-tangle with a wet brush and always use more leave-in conditioner larger than dime sized on each section of the hair. Completely saturate your curls with leave-in conditioner before adding any styling products , always sleep with your curly hair either twisted and sealed at the ends or twisted on top of your head covered with a satin bonnet. It is important to use more than a dime size of leave-in conditioner. Use ample leave-in conditioner on small sections of the hair raking it in from the end to the roots before styling and your curls will always bounce into place
Natasha: What are the best styling tips for women with straight or processed hair?
Stephanie: When a client's hair is completed with a relaxed/process, I make sure to give them tips on how to take care of it. Most importantly the client should not allow their hair to dry out. They can use a serum at night along with a satin bonnet or pillowcase. Stay away from heat such as curling irons and flat irons.  Too much heat will damage the hair.  Lastly, the client needs to schedule an appointment for deep conditioning and treatments to keep the hair healthy.  
Sasha: The best styling tips for women with straight or chemically treated hair is to always see a professional stylist for routine treatments, trims, and chemical processes. Also, wrap your hair at night to preserve your ends. 
Natasha: What are the hairstyle trends women should be aware of for 2018?
Stephanie: 2018 is ushering in the era of natural styles, coloring, and wigs. Many women are moving away from relaxed hair.  They are also achieving beautiful weave looks by wearing wigs; which gives women on the go the versatility they need and want. 
Sasha: Some hairstyle trends to be aware of for 2018 are natural hair wigs, braided wigs, and faux locs wigs.
Natasha: Is there a hair product you would recommend for any woman with any hair type?
Sasha: Some product recommendations for all hair types would be Aquage Silkening oil treatment and serum, Beyond shine spray, Design Essentials edge tamer, as well as Design shampoos and conditioners. We love Design Essentials and Aquage products.
Natasha: How important is it to understand your hair type? And, where do women learn about their hair type?
Stephanie & Sasha: It is very important to understand your hair type and what styles and regimens work best for your specific hair type. You can see a licensed professional to help you better understand your hair. 
Natasha: Any special announcements for Salon StudioTen31?
Stephanie & Sasha: StudioTen31 donated customized wigs to the United Negro College Fund 2018 Hamptons Benefit auction and over $200,000.00 was raised.
StudioTen31 just hosted a back to school give back by doing free wash and braids for elementary students within the community's grades 1-5; also, provided small and easy makeup tips for the high school ladies with little goody bags by Make Up Your Life Salon. StudioTen31 has also partnered with Q's Quality Cutz to do free haircuts on the same day as well. 
StudioTen31 will also be participating, Vending and Speaking at the Women' Empowerment Brunch: Curls who Brunch on Sept. 1 in the Hamptons. Get your tickets HERE. 
On October 17th, StudioTen31 will be participating at a women's event at the Bethany House of Nassau County at the Links Country Club in Rockville Center. (Program for Domestic Violence Women). Get your tickets HERE. 
StudioTen31 will be partnering with some great businesses to help expand the brand and give back more (i.e., Vera Moore of Vera Moore Cosmetics). 
Also, StudioTen31 will be providing services for the ladies attending Long Island Diner En Blanc on Sept. 15th. Get your tickets HERE  
Natasha: What do you want women to remember most when it comes to their haircare regimen? 
Sasha: What we want women to remember about StudioTen31 is that we care about the health of your hair. We have staff that specifically deal with thinning and hair loss. We have a natural hair consultant on staff for all your natural hair care needs. We also have expert Wigmakers and Weaveologists on staff here to help you change your look at the drop of a dime. We strive to help women feel confident with what they see in the mirror we want all women to feel good about themselves and when you look good you feel good. 
Learn More About StudionTen31
StudioTen31 hosts a fun, uplifting and friendly atmosphere with some of the most professional hair designers in town. When you are in their salon, you will be treated with the utmost respect and will receive great guest service. They give thorough and expert consultation before the start of your service; you know exactly what to expect during your service and what you're getting before we start the process. They guarantee the execution of your beauty enhancement desires will be exceptional at StudioTen31. Their professional team has served Long Island, Brooklyn, the greater NY Tri-State area, three of the Seven Cities on the Virginia Peninsula, the Historical West end of Atlanta, the Greater Atlanta metro counties, Miami Dade County, Ft Lauderdale, Tampa, Florida, and Southern California collectively for over 17 years. As traveling stylists, they have been afforded the opportunity to work with some of the entertainment and fashion industry's elite such as, The House of Chapple, The Migos, Kierra Sheard, Selah Marley, Singer songwriter Stacy Barthe, Actress Sydney Winters, DJ Duffy, Quality control music, and Actress/Model/Humanitarian Mari Malik (DJ Stiletto) just to name a few.  
They have been recognized by Nassau County, Senior Councilwoman Dorothy L. Goosby and Councilwoman Erin King Sweeney, County Executive Laura Koran, and NY State Senator Todd Kaminsky for our outstanding community outreach programs. They continue to give their time and talent to organizations such as the United Negro College Fund, their own young cosmetologist internship program and the StudioTen31 Annual Back to School endeavors. Their goal is to enrich the lives of every guest they come in contact with in a positive way. Their mission is to always provide "An environment where excellence is expected." StudioTen31 salon and bodywork are committed to setting trends in the health and beauty industry and supporting healthy hair, healthy minds, healthy bodies, and beautifully shining souls.
Don't Miss Tonight's Event!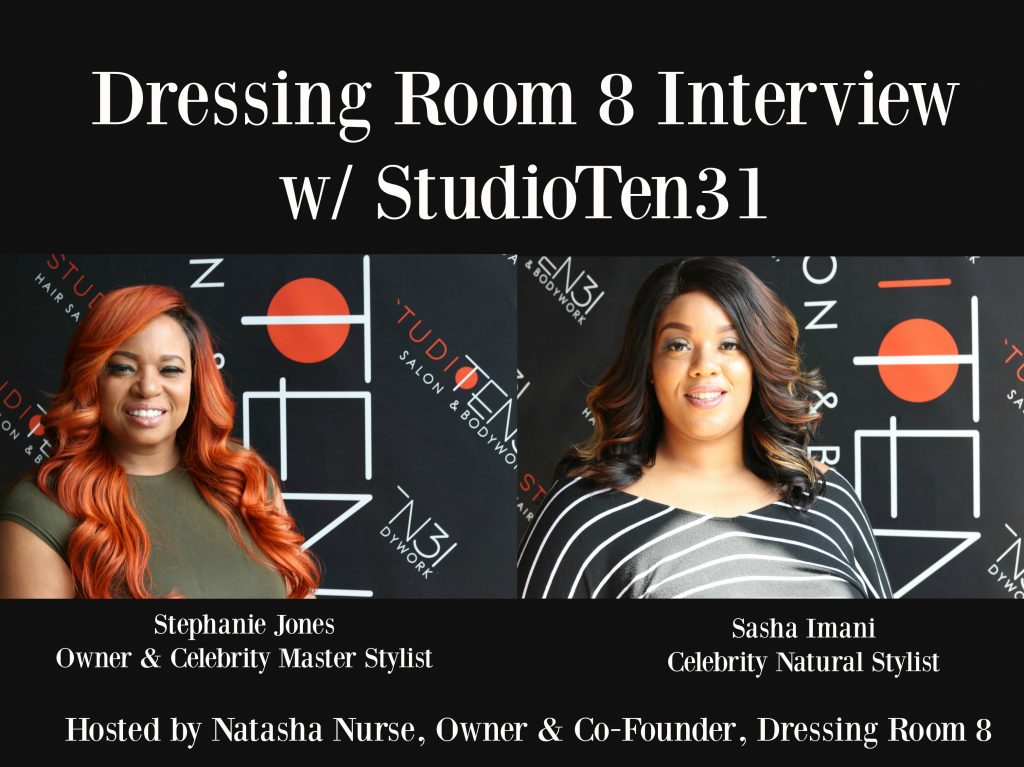 Join the conversation TONIGHT at 7 PM EST HERE