This post contains affiliate links. That means if you click on a link and buy something, Dressing Room 8 will earn a small commission from the advertiser at no additional cost to you.
It's that exciting time of year, second only to Christmas when the weather turns hot, and the latest swimwear fashions hit the shelves. Ladies, this season you are going to freak over the hot new trends set to dominate beaches everywhere!
Out with the drab old bikini and in with the new one-piece bikini! And with the buzzworthy designs and patterns that are scorching hot for 2019, you may as well burn your old swimwear and buy a dozen new ones! Everybody looks dynamite in the one-piece bikini which is so flattering – unlike the unforgiving bikini!

The Reinvented One-Piece Bikini
Forget what you know about the one-piece bathing suit. We're not talking mom wear. We're talking about the reimagined one piece that was this year's uniting force at Miami Swim Week. Cut-outs, high waists or high cuts are just some of what you can expect to find.
Designer One Piece Styles
The reimagined one-piece bikini comes in many designer styles, offering every body shape it's bathing suit match made in heaven.
Geometric Cut-Out: For a slimmer more defined waist the cut-out – meaning the side(s) have been tastefully removed – is your best bet. If you have a straight or rectangular body.

Halter Monokini: Are great mid-coverage suits that show off those hips and a bit of cleavage.

One-sided Cutout: Ideal for those pear-shaped ladies as it'll show off those hips!

High-Waisted: Hourglass figures rejoice! Even though you gals can rock just about anything with your perfect proportions, high-waisted swimwear really does wonders at lengthening your legs and slimming down your waistline. Where are all the curvy girls at, this style was made for you, slap a plunging V neckline, and you're going to look sensational!

Halter Monokini: The high waist will give you a slimming look.

Plunging Neckline: Got an hourglass figure, this will show off those assets nicely.

Open Back: Great on anybody!

Sheer Halter: Flash some skin comfortably with strategically placed sheer panels, with the high waistline it'll provide extra support and will look gorgeous on the plus size women out there!

High-Cut: If you've got an athletic body, show off all your efforts! It also makes for a more rounded behind.
Designer Trends
2019 promises to impress in patterns, colors, and styles!
Swimwear Trends: Deep V-necks are all the rage and if the underwire is exposed – all the better. Criss-crosses and ruffles are so totally drool-worthy and available in this year's sultry colors like neon yellow. Hello velvet, surprised to see this as a swimsuit material – you should be – but it's seriously trending again this season. Long sleeved or laced up bikinis are the final trends worth ogling over.
Colors and Prints: If you're looking for this year's preferred prints, look no further than neons, pastels, stripes, polka dots, paisley, nude colored or animal prints. Pick your style and find your print and get ready to make a splash.
Rejuvenate Your Swimwear with One-Piece Bikinis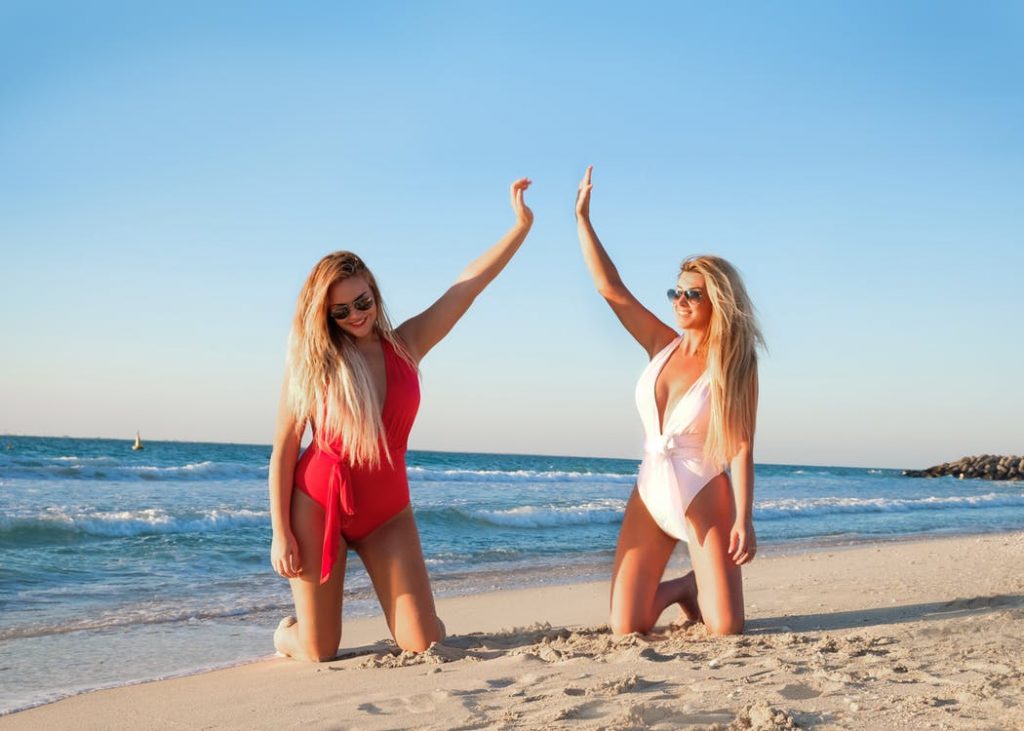 Toss out all your old itsy-bitsy teenie-weenie yellow polka dot bikinis, they are so out and get stoked to start shopping for this season's huge trend, the one-piece bikini!