One of the things I love the most about speaking with the people behind the plus fashion world is learning about the reasons why they started their business. One common theme you'd most-likely notice (if you've been keeping up with the interviews) is that many indie plus size designers started off as dissatisfied consumers. They were fed up with not having the options available to them that straight size women have when it came to fashion; instead of being angry, these women took matters into their own hands and picked up a sketch pad, or needle and thread and started businesses that are catering to countless plus size and curvy women across the globe.
Yona Love is one of these aforementioned women. Her namesake plus size fashion brand, Yona New York, provides beautiful looks that aim to take women from morning through night in comfort, style, and fashion.
"When a woman wears my clothes, I feel like she can tackle the world. They will empower her and she will feel great and look great," says Yona. "My clothes let women feel professional, fun, sexy, fierce, confident and comfortable… all at the same time!"
Check out my full interview below with this triple threat: business woman, fashion designer, and family woman!
asdfasd
Natasha: Based on your struggles with finding clothes you like that fit you, can you describe the moment when you decided enough was enough?    
Yona: My son was recently getting married. I went to a boutique with designer outfits and fell in love with a dress that had a maximum size 14. However, I was not a size 14.  They told me that I could buy two dresses at the retail rate, and have the dresses combined into one provided I pay for fittings and alterations. After 6 hours of work, I was still not satisfied with the larger size dress they created or felt like the dress was flattering. That was the straw that broke the camel's back.  
I've always loved fashion and always doodled sketches of fashion since I was a little girl. But, I didn't start off working in fashion even though I started working at the age of 12. I went to FIT at night while working for a family business but never got into fashion since I was so busy with that business. But, I always wanted to do it. I always felt like I wanted to offer a strong voice for plus size women in a way we didn't have back then. So, I decided to do it now!  
Natasha: Who is your ideal customer?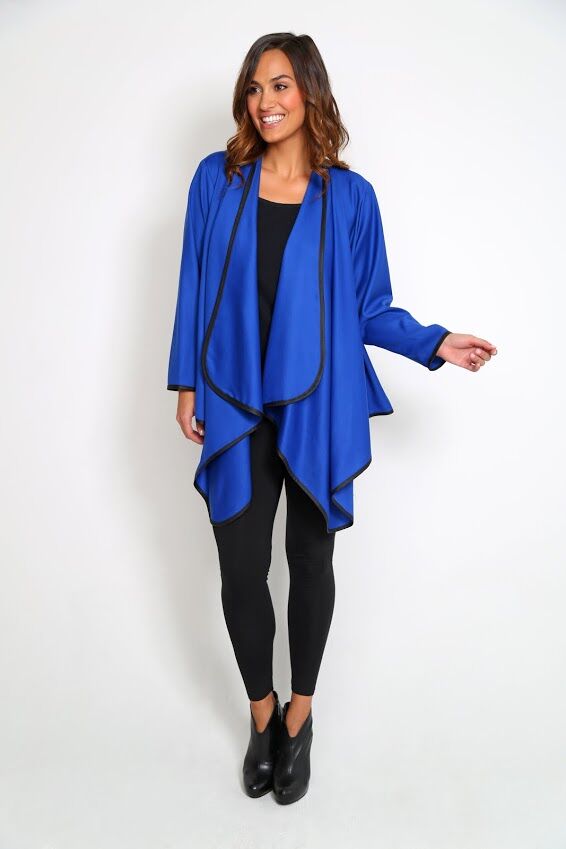 Yona: She is a busy woman who doesn't have time to change into 3 different outfits a day.  She is a professional, confident woman who cares about fashion and being comfortable in an effortless way. She can go from day to night in Yona New York designs.   
Natasha: What is the best part of being a plus size designer?   
Yona: How my customer feels in my clothes. I want women to feel beautiful, confident, comfortable and feel like she is in her own skin.   
Natasha: What are some challenges you deal with?  
Yona:  Not everybody is shaped the same. Women should feel beautiful regardless of how differently we are shaped.   
Natasha: Do you incorporate customer feedback in your designs?  
Yona: Bring it On! I can only grow and help people more. I welcome what people have to say. 
Natasha: What are your motivations for the designs?   
Yona: I am moved by fabrics and colors! And, I like many of the designs offered by some of the big couture designers, but it will forever kill me that they don't make clothes for plus size women. My goal is to combine great fabrics, colors, and designs in clothing that fits and flatters plus size women. We deserve it!
Natasha: Why do you think it is so hard for plus size women to find clothes that fit?  
Yona: I find that plus size designers are making clothes that are fun but not really for the plus size women.  Most often, they are not comfortable or not considering different body types. You can't make clothes 2-3 times larger and expect it to properly fit a plus size woman. You need to actually design for a woman's body type.  
Natasha: What are some things you wish knew before starting Yona NY?   
Yona: #1 – how much everything costs!  
#2 – I wish I knew more people in the business ahead of time  
#3 – I didn't know how many people would believe in what I am trying to do  
Natasha: In 10 years, where do you see the company?   
Yona: Making a lot of people happy! I want Yona New York to be a known company to the public. And I hope that  "plus" won't be a big deal in society. We should all be equal and accepting for each other.   
Natasha: What advice do you have for other fashion designers in the plus size space or wanting to design for plus size women? 
Yona:  Keep along the line of your dream. Keep at it! You have to look forward and believe in yourself no matter what! People's opinions are just that…OPINIONS! Don't let people stop you!   
Natasha: What are 3 things people don't know about you?  
Yona: I am a workaholic, a shopaholic, and family is the most important thing to me!
asdf leo.
Inspired yet? You too can be the next Yona. All you need is a inspiration, determination and the will to succeed!
XOXO
~Natasha
asdfa