Hey Curvy Queens!
If you're preparing for an upcoming trip, then I'm sure you're probably thinking about how great the flight will be and how you can't wait to meet that stranger squeezed next to you in seat 9D. Right? Well…just in case you're NOT that person who enjoys commercial flights (like me), I'm here to let you know that not all is lost. We all know it's particularly a struggle to travel while curvy but over the years, I've developed a list of things that I always check off before I board any flight to ensure a more pleasant experience. 
Here's my checklist:
Reserve a window seat

– Generally, I try to travel with someone and take the window seat. How could this be beneficial? Simple, it accommodates my wide hips that inevitably end up in the other seat. So, it is better if they only touch someone I know, rather than someone who will fidget and complain. I am always nervous flying, so seeing what is going on provides a bit of comfort.

Travel with a good friend

– whether it be a spouse, bestie, furry companion, or stuffed animal (I don't judge). 

Wear something comfortable

– I know I like to travel rocking my Walking Dead hoodie and some comfy sweat pants! (Yes, I own a Walking Dead hoodie. Don't be jealous)

Use the bathroom before you get on the plane

– being curvy and in the window seat isn't always rainbows and butterflies, especially when nature calls. Plus, airplane restrooms were obviously not designed by a curvy woman.

Bring the necessities

– If you love music, books, or video games, bring them with you and block out your immediate surroundings. If those don't work, there's always Benadryl : )

Smile

– Life's too short to frown for several hours. Think of positive thoughts and smile a little – it may just cause some happiness.
Planning a trip to Europe? Check out some valuable traveling tips from these curvy bloggers and their experiences in Europe!  
You will be getting words of wisdom from the following fabulous bloggers: Lei-Loni Greenhow, Aarti Olivia, Zadry, Becca, and Farrah Estrella.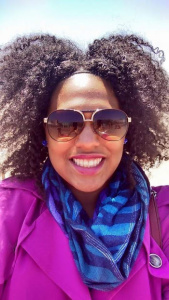 Happy Trails!
XOXO
~ Natasha