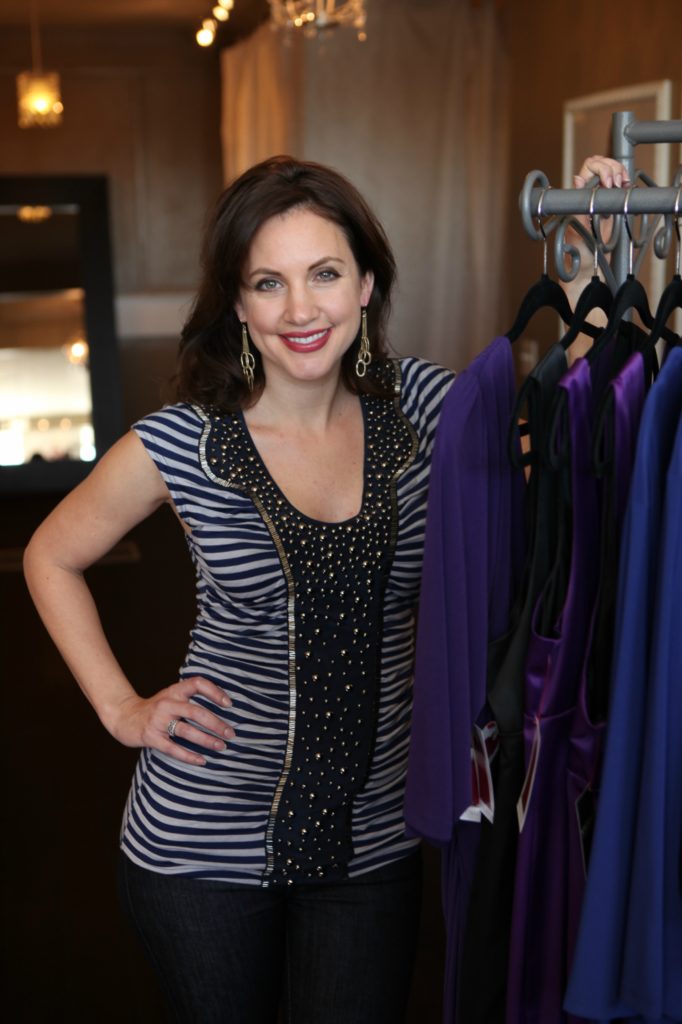 Kim Khanbeigi founded Kiyonna Clothing in 1996 with the vision of revolutionizing how plus-size women's clothing was designed, manufactured, perceived and distributed.  With Kim's passionate dedication to a niche market of women underserved by the fashion industry, Kiyonna has become a well-known brand in the plus-size space and a leader in innovative and stylish design.  She has been active in making sure Kiyonna balances meeting and exceeding customer expectations while at the same time remaining socially conscious.  Each year, Kiyonna proudly donates thousands of garments to women in need as is heavily involved in supporting charities such as Sandy Hook Promise.  Supporting the local economy has also been one of Kim's highest priorities, as 100% of all Kiyonna's manufacturing is done in the USA. 
Enjoy my Q&A with the amazing visionary! 
Natasha: Can you think of any moment or moments from when you first started Kiyonna, where you ran up against a large roadblock or obstacle that scared you at the time? How did you deal with it and overcome it (if you did)?  
Kim: Thinking back to 1996, there was no such thing as e-commerce; just brick and mortar stores. Email was hardly used. Things were accomplished organically and looking back, business was generated sometimes a lot harder and slower than what's possible today. You had to meet face to face as a sales person, pounding the pavement and really earning each and every sale. We didn't have the technology of today for such simple things like emailing line sheets. It was different and I guess you could now say "old fashioned".  
Growing the business required making more personal connections while still embracing the change that was happening with e-commerce.  Developing a website allowed us to reach new consumers through a new medium. What a wild ride it has been to see the landscape change. But it's also satisfying to see some things stay the same.  We still make everything in the US and have a team of really gifted people. For me, working with a great team is the number one reason I love work.
Natasha: Did you ever have moments where you doubted yourself, your business idea, and your ability to succeed? If so, how did you overcome it?  
Kim: Absolutely. Entrepreneurship is a lonely journey; especially, when you first start.  There wasn't a lot of money, actually quite the opposite.  Every credit card is maxed in the hopes that you're growing something amazing.  There were times when I doubted whether it was worth it. While friends graduated college and landed that first big job, I was wearing multiple hats, working out of my apartment, void of a paycheck, and missing some of the social interaction and accolades that come with having a normal job. For me, my foundation was my family.  I witnessed their hard work and knew their belief in me was real.  My grandparents were entrepreneurs, opening an Italian Deli in the 50's in California.  My dad was a music teacher, my mom, and English teacher.  These examples inspired me to reach for a dream and never stop learning while also focusing on the arts.  This environment was rare and made me who I am today. 
Natasha: You were definitely an entrepreneur before it became a buzz term – what were some of the key lessons you learned in business over the years that wasn't taught in school?  
Kim: There are so many concepts that need to be actualized and refined by real world experience.  It's one thing to strive to make the customer happy, but what about when you grow your business and need to make your team happy?  What's culture?  I realized these were questions I didn't consider at 22 when I started but which became increasingly important in our success.  Over the years, one of my most satisfying undertakings has been to assemble a team where people can really love what they do and where people enjoy the company of those they work with because they feel valued and inspired.  I'm still working at this every day.
Natasha: Longevity is such a rarity these days in the age of startups – why do you think Kiyonna has been able to stay in business and relevant for over 20 years?  
Kim: We keep it simple. It's tempting to get distracted. It is really expensive to make everything in the US. We live in California and it's much more expensive here but the fact is the payoff is greater when you place value on the social component of supporting the community, having superior quality, and being fast to market.  We value our product and the workers who help us create this collection.  
Natasha: How would you describe how the plus size fashion industry has changed from when you first launched Kiyonna to where it is now?  
Kim: There are now more players in the industry which is great because the majority of women are plus size and need more options when it comes to fashion. Although the industry has changed, we have stayed the same in many ways.  We create a collection a size 8 would want to wear, just exclusively in plus, and it's only made in the USA. 
Natasha: Has Kiyonna changed or shifted in any way over the years?  
Kim: We went from being able to only serve our customer through brick and mortar boutiques to connecting with our customer online via our site (www.kiyonna.com). Social media has also paved the way to connect us more personally to our customer with each picture, post, hashtag, etc.
Natasha: I saw a speech you gave a few years back where you discussed your decision to take a step back from the business when you had your children — can you talk a bit more about what that experience was like and any advice you have to parents or aspiring parents who have dreams of starting a business and balancing that with family?  
Kim: Balance is a difficult thing to not only grasp, but also achieve. There are so many women who want to have it all. It only makes sense. You only have 100% to give just like tomorrow there will only still be 24 hours in the day. You don't have 100% to give to your child, 100% to your business, and 100% to your personal relationships. You just don't and that's math.  I had to step back from company to give more of me to my child. You might do things slower, but slower isn't bad. Slowing things down with more clear intention can produce better work.  A beautiful walk is sometimes a more meaningful journey than a great run.  
Natasha: What most excites you now about plus size fashion?
Kim: Honestly, because I experience the magic that goes on behind the scenes of every new product, I get so excited with they come out each week and basically come to life for the customer.  
Natasha: Where do you see Kiyonna in the next 20 years?  
Kim: That's a long time but I'd hope we could continue to work with customers who really do appreciate American made. People are shifting towards more socially conscience everything and I love a future where this continues to evolve. I believe the next 20 years will involve us telling our story a bit more because it's a great one to tell.  The awareness has to be there for quality goods and services to thrive and for society to really have sustainable businesses that flourish.  
Natasha: What's a little-known fact about you that you haven't shared in an interview before?  
Kim: I was born in 1973 and love video games. I have one of those stand-up arcade games at the office with a bunch of games like Pacman and Donkey Kong. I also have a table version in my home and zone out and play when I need a break.  Another interesting fact is that I work with my husband and we really work well together which I know is rare.  He is a lawyer by trade and one of his gifts is compromise. We are gifted in different ways and I've grown to really appreciate and depend on him at Kiyonna. 
Being an entrepreneur is quite the endeavor. Getting into fashion is a whole other beast. Speaking with Kim, it is clear why Kiyonna has been loved and supported for so long! 
~ Natasha