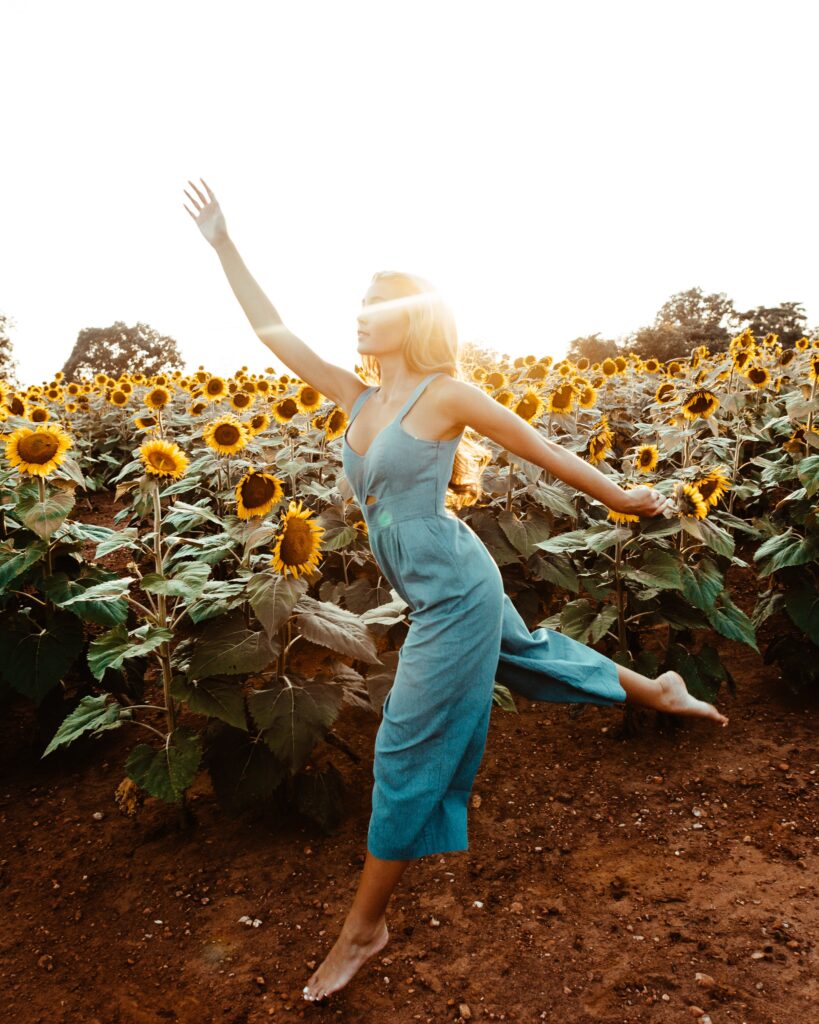 Loungewear dominated 2020 (for obvious reasons), and it continues its prominence even as we slowly march back towards normalcy. After over a year of tie-dyed sweats, are we really supposed to jump back into the world of fitted tops and — gasp — jeans?! 
If you (like us) are avoiding "hard pants" at all costs right now, we'd like to introduce you to the jumpsuit. This timeless outerwear is the perfect blend of comfort and class, giving you a polished and put-together look while still making you feel like you're just relaxing at home! We suspect that jumpsuits are going to be a fashion staple for many people in the coming months, and adding a few to your wardrobe will help you look effortlessly chic! 
Jumpsuits look great on their own but with the right styling, they can be truly exceptional! Here are five of our favorite tips to help you take your jumpsuit outfit to the next level.   
Dress for Your Body
You might think that you have the kind of body type that "doesn't work" for a jumpsuit. Let's dispel that myth right now — everyone can look great in a jumpsuit! The trick is finding the right style for your body type. 
For example, tall ladies look best in wide-leg jumpsuits that hit just above the ground. Short ladies look best in slim-fit, cropped jumpsuits. Women with large busts can balance their chest and hips (and make the jumpsuit look more flattering) by opting for an open neckline like a wide scoop. These little details can make a huge difference in the way your jumpsuit looks. 
If you want to make your jumpsuit look extra chic, take the time to find the style that flatters your figure. You'll look (and feel) a whole lot better if you do!
Wear High Heels
I know, I know. We just told you that jumpsuits are a great way to look good and still be cozy, and now we're asking you to put on high heels?! Here's the thing: jumpsuits have a tendency to draw the eye downward and make you appear shorter than you are. High heels can balance your look and help your legs appear long and lovely. 
Of course, wearing high heels doesn't mean you have to wear sky-high stilettos everywhere you go! Choose any height you can handle comfortably and you'll be good to go. Just make sure you wear a shoe with a slim heel instead of a chunky one; the latter can make your jumpsuit outfit seem less sleek and polished. 
Define Your Waist
Most women believe that the hardest thing about pulling off a jumpsuit is not looking so boxy in it. After all, a jumpsuit is essentially one long piece of fabric — how is it supposed to accommodate your curves? Luckily, fixing this "problem" is actually quite easy — all you need is an old-fashioned belt! 
Wearing a belt over your jumpsuit can help define your waist and flatter your shape — all while adding some fashionable flair to your look. The kind of belt is really up to you. If you're looking to break up a single-color jumpsuit, find a bold belt in a contrasting color. If you want to rock the monochrome style, get a belt that matches your jumpsuit! This simple trick will make you look more dynamic and sure to land you more than a few compliments.
Choose Bold Jewelry
Jumpsuits live in this weird fashion limbo between "statement piece" and "wardrobe staple." When a jumpsuit is worn well, it can absolutely make a statement but when it's not, the look can be pretty bland. The best way to ensure that your jumpsuit falls into column A is to accessorize appropriately. 
We suggest wearing bold, trendy fashion jewelry with your jumpsuit. Consider a chunky statement necklace, some colorful pendant earrings, or even a chic pair of vintage sunglasses. Each of these pieces can help elevate your jumpsuit and give it that extra something special for a stunning look.
Rock Your Look!
Finally, it's time to talk about the most important part of any outfit: confidence. If you truly believe that you're pulling off your look, it will show — and everyone who sees you will believe it, too! So, whether you're brand new to wearing jumpsuits or a seasoned vet of this timeless trend, make sure to smile boldly, hold your head high, and wear that outfit like a supermodel. Trust us, it's going to make a big impression on everyone you meet.