I had the fortune of meeting a number of inspiring business women during Full Figured Fashion Week who have turned their passions and ideas into reality. One of those women is Sharon Thorp, someone whom I admire because she saw a need for a product that wasn't being fulfilled in the market and created a solution, one that I think is a major game changer. 
Sharon is the Founder/CEO of 2DAYGIF, INC a leg wear and accessory company.  Prior to starting her own business, Sharon worked at various hosiery companies in NYC for more than 18 years. Driven by a desire to create quality leg wear and inspired by her frequent travels to Italy, Sharon launched Passione Legwear, her first product line. As someone who's always innovating, Sharon is now building off of her success with Passione Legwear and taking it to the next level with Xpandasox®. Xpandasox incorporates patent-pending technology (Xpandapanel™) that allows the leg wear to expand to accommodate larger calf sizes. 
Sharon's products provide comfort, style and affordability – what more can you ask for?
Without further ado, here is my interview with the incredible Sharon Thorp!
Natasha: What is the story behind how you came up with Xpandasox®?
Sharon: When working with clients, one of the biggest complaints I'd hear is how their socks always dug into their calves. At the time, there was no way to make your sock wider, so the thought popped into my mind: Why not add a back panel that is stretchable to make the sock expandable?
Natasha: Who is your ideal customer? 
Sharon: Xpandasox® is for EVERYONE because comfort and style is something that anyone can benefit from in sock wear. Whether you're pregnant, have larger calves or are just looking for a great pair of stockings, our products are for you. 
Natasha: What are some of the designs used with Xpandasox®?
Sharon: The fall collection includes your foundation colors like black with a black satin panel or navy and charcoal colors. Our perfect goddess collection uses animal prints and lace back panels. The Xpandasport collection has a mesh back to provide functionality while remaining fashion forward. We also want to get feedback from our customers on style preferences to help inspire future designs. 
Natasha:  What would you wear with Xpandasox®? 
Sharon: Wearing boots with Xpandasox® works great! You can wear them under your pants without it creating a bulky look plus it provides an extra layer of warmth. The Xpandasport collection works great with sneakers and yoga shorts or pants. Alternatively, if you want to wear them to bed, that works too!  Our collections are versatile; you can wear them any way you want! 
Natasha: Why do you think no one else came up with this idea before? 
Sharon: For years, I spoke with retailers about the need for plus size socks and was ignored. The best invention is something that solves a problem and you understand what it is immediately.  
Xpandasox® is an answer to a prayer and I feel so happy to solve a problem!  We really wanted to help women who struggle with body image issues. Xpandasox® helps empower women and make them feel more confident! Women shouldn't feel like they can't wear something because of their body size. 
Natasha: How will Xpandasox® affect the plus size industry? 
Sharon: Xpandasox® will solve a common problem that hasn't been addressed before. Xpandasox® will definitely have a positive effect because the Xpandapanel™ contours to your body to provide comfort and style.  
Natasha: What should women expect when wearing Xpandasox®? 
Sharon: Women who have had sock issues before will have a new experience with Xpandasox® . Xpandasox® are softer than other socks you have worn in the past and are made with a very high quality yarn. If I wouldn't wear them, then I wouldn't be putting them out. They are also made to last! You can use Xpandasox®  to help you build your basic sock drawer. 
Natasha: What else is coming down the road? 
Sharon: You will see our Perfect Goddess and Xpandasport collection. And, we plan to make additional products with the Xpandapanel™. We want to make sure we move in the right direction which will really be based on active engagement from our customers. How the customer feels is really important to us! I really want to listen to the customer.  
Natasha: What are the current prices for Xpandasox®?
Sharon: Knee highs will have have a $18 retail price. Crew socks and unisex collection will have a $16 retail price.  
Natasha: What can you get Xpandasox®? 
Sharon: You can shop on our website Xpandasox®, which will officially launch this September. 
Natasha: Where has Xpandasox® been featured? 
Sharon: We were at Full Figured Fashion Week which was great! Marie Denee (The Curvy Fashionista) represented us at Full Figured Fashion Week. And, we have been highlighted in Plus Model Magazine.  
Natasha: Do you have any last minute thoughts? 
Sharon: Yes, I am proud to talk about Xpandasox® but, I can't take all of the credit. We are a christian company and are grounded in our connection to God. This connection is what has helped with bringing Xpandasox® to the world.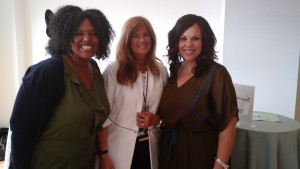 Sharon is quite the inspiration. She is not only humble and very down to earth but is also dedicated to making women feel confident in whatever they are wearing. She personally and professionally inspires me! I can't wait until Xpandasox® are available for sale!
Stay tuned for upcoming giveaways, where you can win a sexy pair of Xpandasox® for yourself!
XOXO
~Natasha