Aloha everyone, my name is Moet Cristal! I'm a plus size model and visual artist living in NYC.
I am so thrilled that I was selected in the Fashion Blogger for a Day sweepstakes with Dressing Room 8! I'm really excited to share a little about me and one of my favorite brands along with my personal style ideas in this playful look! 🙂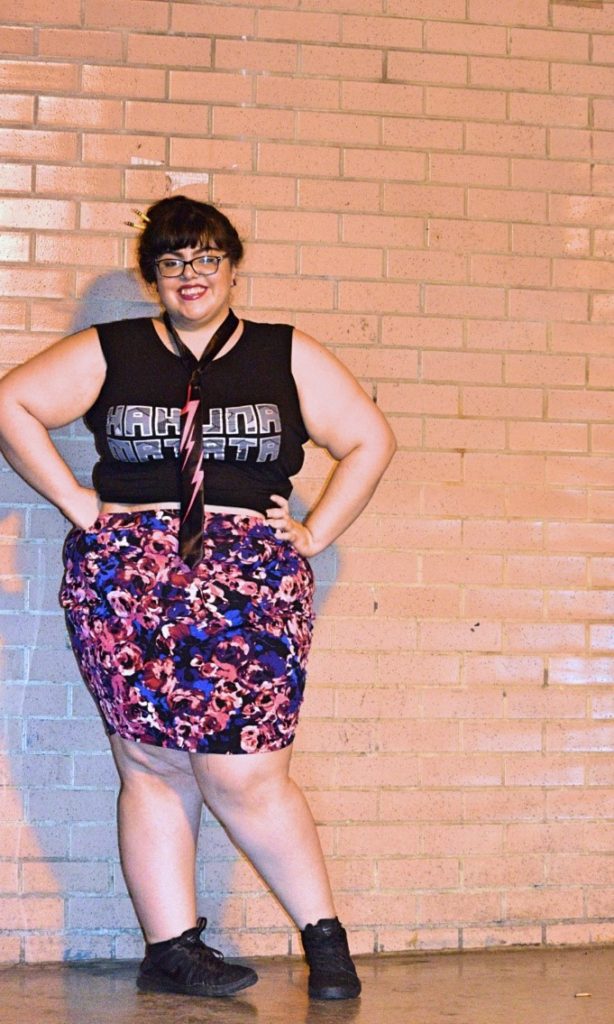 As summer ends, so many of us shift our focus to going back to school. I'm not attending university right now but I thought I'd do an ode to my punk rock high school years, with a sporty and sexy twist!
Here, I'm wearing SmartGlamour's Allison Pencil Skirt which I ordered at SmartGlamour's NYC Pop-Up shop. When I spoke to the designer Mallorie Dunn, she informed me that according to their size chart, I'm a 3X on top and 5X on my bottom, so I had this fashion staple custom made for my body. This sizing issue rings true for me across most brands, as this shirt is a size large.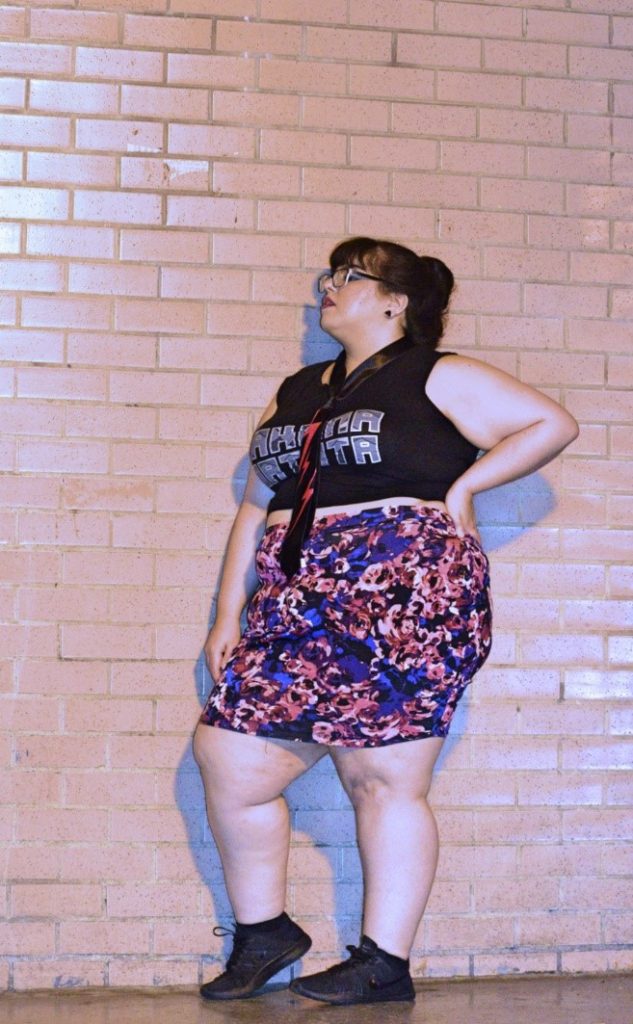 Mallorie did a great job with this piece—this skirt is so dreamy. The material is so soft, and I love the length of it, as it is short but I still feel covered when I'm walking, dancing, or bending over. I've worn this skirt in pretty hot weather this summer and I felt great. I'm looking forward to layering it with cute tights, knee high socks, and cozy sweaters as we transition into cooler weather!
Comfort is a must for me, so when I'm walking these New York streets I wear my kicks! I am wearing my black Nike Free RN sneakers and they are amazing! I love the low profile— it is a super sleek look that can be paired with almost anything. They are light on my feet and have a very flexible sole, so I can walk about all day without any issues!
I am a fan of showing a little skin! Although this look might not be so school appropriate, this Hakuna Matata Tee is actually not a true crop – I just tied the shirt in the back so I could easily tuck it into the skirt instead!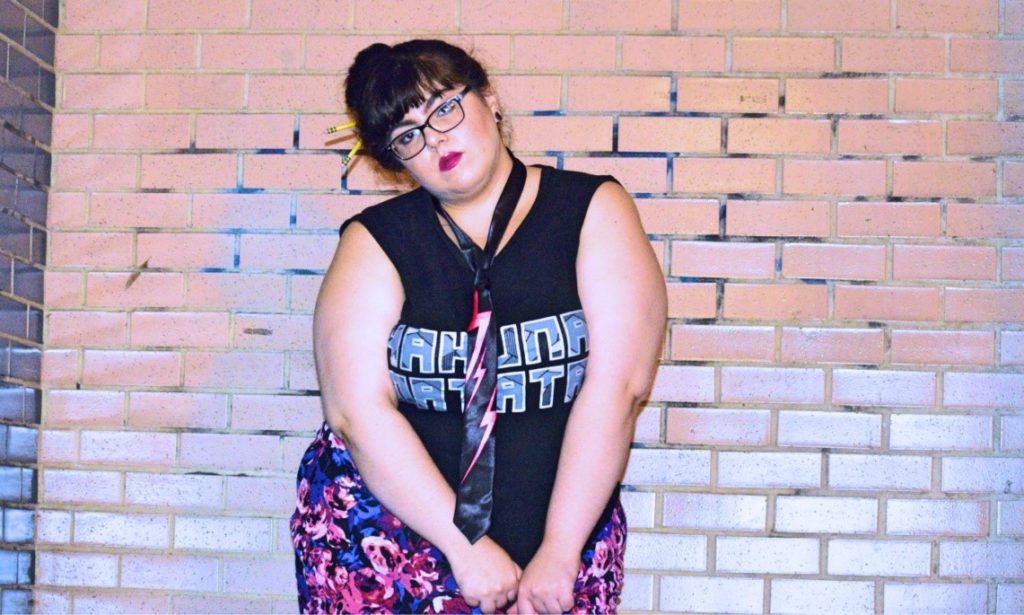 "Hakuna Matata, it means no worries!" 
I wore this slogan from one of my favorite childhood flicks to remind any of those who are heading back to school, starting a new job, or getting back into an old routine this fall, to take it easy. I think you should strive for the best, but also keep your well-being in the forefront. Take time out to love yourself! When you feel good, you'll do great.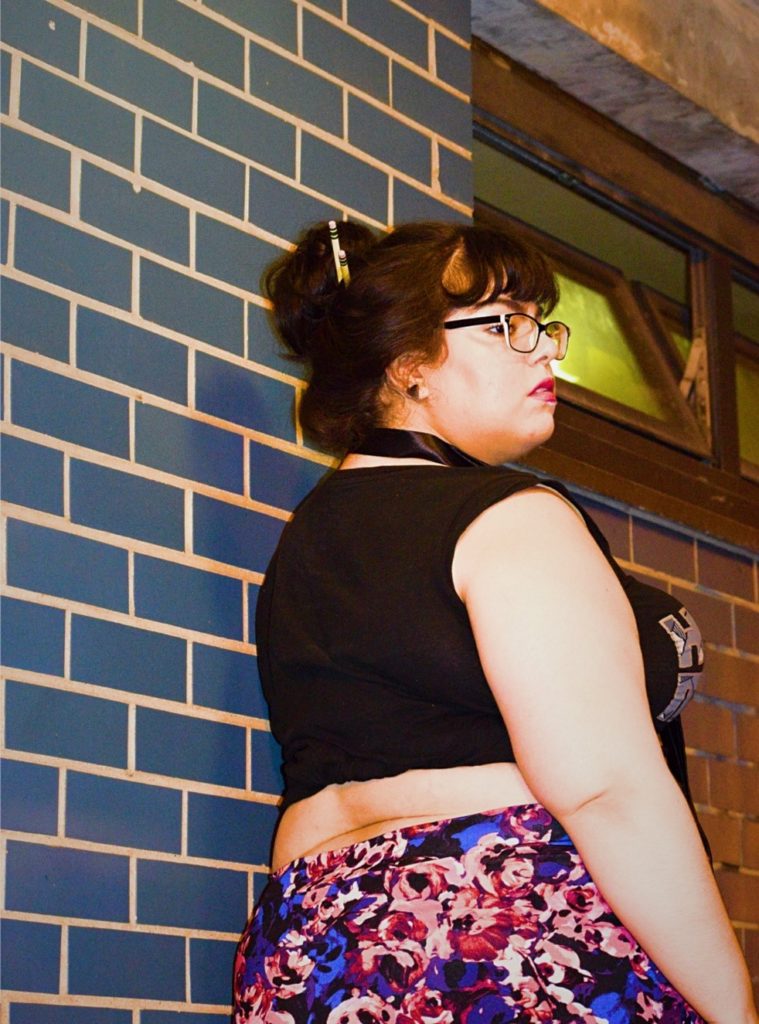 When I was in high school, I was always concerned about having perfect grades and looking all put together all the time. On the inside I was suffering from depression and anxiety and I didn't want people to witness it. For example, I would be so stressed about getting a paper done perfectly rather than taking a moment to actually acknowledge my feelings, taking a breath, and then working on the task with the knowledge that no one is perfect. I'm learning more and more every day to just let it flow.
I believe to be genuinely yourself is the best bet. No one truly knows who you are and what you're capable of. Please don't be afraid to shine. Let your uniqueness come through. Wear what you want. Define success for yourself. Define yourself for you.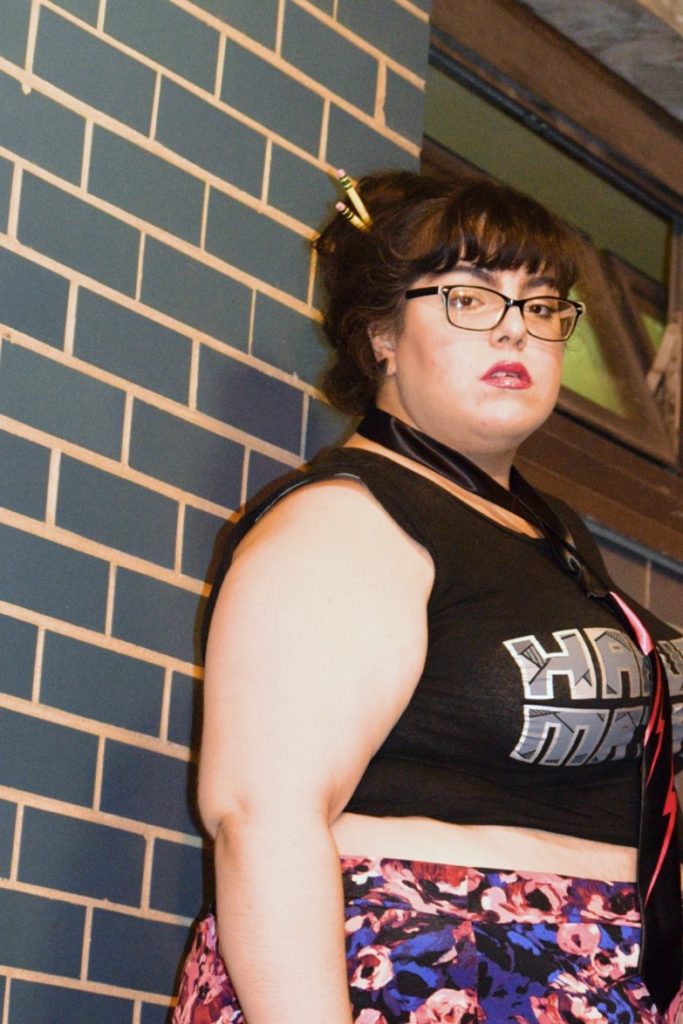 I had a difficult time writing this, but I think I had a limiting belief in myself that I couldn't write a blog post – that I couldn't write or be a blogger. But here we are at the end of my first fashion blog post and I have many more ideas! So maybe this fall, you could challenge your limiting beliefs and do something that you really want to do, even if your inner voice of doubt says otherwise! It might be awesome!
If you want, you can keep up with me at MoetCristal.com, and @MoetCristal on Twitter, Instagram, Snapchat, Tumblr. You can join me on my Facebook pages "Moet Cristal Plus Model" and "Moet Cristal Studios", which feature my modeling and art!
I want to give a special thank you to Natasha for such a wonderful opportunity to share!!!
All My Best,
Moet Cristal <3
Shop My Look Here:
Necktie (two cute options)