As a platform for empowerment, we at Dressing Room 8 swoon over other strong figures in the plus size fashion industry who are creating avenues to empower women. Velvet d'Amour is dropping labels, breaking down barriers and embracing the female form with in her publication, VOL.UP.2 Magazine.
Check out my Q&A with this fashion icon! 
Natasha: What attracted you to photography?  
Velvet: Having a background with a fine arts major from SVA, it made sense for me to be attracted to photography. When I went to school, realism was really strong in the illustration field. We would have to photograph our subjects on to slide film and project them to paint. I found that my photography had already made my statement. My mom was really into fashion, so I grew up loving clothes. Mixing my love and passion for art and fashion drew me into fashion photography. And, I got really into it when I went to Italy to study and ended up having James White as my teacher.
Natasha: What do you love most about modeling?  
Velvet: I got into modeling as a political statement. No one my size was modeling in mainstream media. I was scouted by an agency to model but told I had to lose weight. I went from 140 to 117 lbs but was told I was still too fat which ended up leading me into fat activism. Modeling for me, was about infiltrating mainstream high fashion.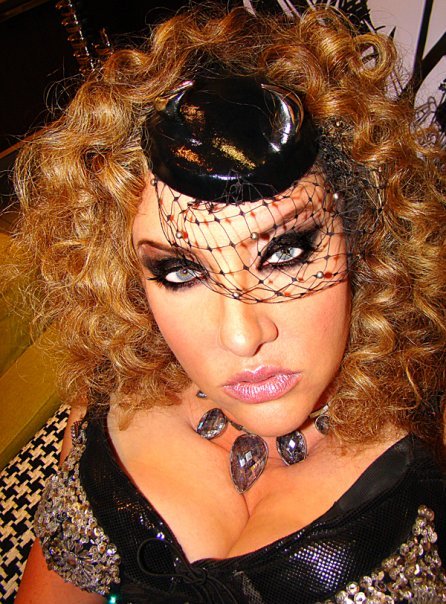 Natasha: You do not seem afraid to be radical or to break rules. What are your sources of confidence and inspiration?
Velvet: Other women's pain. As a photographer, I started shooting straight size models. I saw that the women we idealize were not always happy with themselves as were so many women who weren't models. I realized that I should try to do something about that. I was really enraged seeing women constantly picking at themselves in a way men don't typically do. Plus size women, handicapped, older people, women of color are not represented enough in the fashion industry. This is a global issue that needs to be addressed. To me it is logical that there should be representation for consumers buying the clothes. The argument that media shouldn't showcase fat women because of "health concerns" is a facade. As, health concerns never limit anyone else's media exposure in the way they do fat people. What people perceive as radical, I see as only logical!
Natasha: What are your thoughts on #droptheplus controversy?
Velvet: This is a very controversial topic. I don't demonize women who say #droptheplus. Ashley Graham who is labeled as a plus size model is someone who the average woman doesn't see as being plus size because she doesn't carry much abdominal weight, she holds her weight primarily in a very hourglass form, etc. Why do we have to define plus size models? Universal sizing would be beneficial and is a much bigger issue that needs to be addressed. If we could just be honest about sizing, it would be an easier thing to deal with. Personally, I am fine dropping the plus like any other label in life. I do not quantify my transgender models, my differently-abled models, my elderly models, etc., so I also do not label a model as Plus Size – they are all referred to simply as models. Back in the day, BBW was not perceived as pornographic, as it is now. Names change and evolve, hopefully people get into what is important, which is diversifying media and fighting for positive change, for more inclusion within the fashion industry, for more diversity in the models we see representing us, versus getting lost in a battle about semantics.
Natasha: What is the story behind VOL.UP.2 Magazine? How did you decide to start a Magazine?  
Velvet: I shopped for more edgy magazines. I have always seen sexiness or edginess as feminist in nature. My whole thing is to emulate high end fashion magazines that includes sensuality. The plus size community deserves editorial empowerment which is how the magazine started. It really blew me away to see how well received it was. Plus, I love offering the opportunity to give exposure for people looking to get into the industry.
Natasha: What should people take from reading VOL.UP.2 Magazine?  
Velvet: Genuine diversity. The upcoming issue shows people with skin diseases and older people. It is important to have a magazine that will show plus size models that are 500 pounds or apple shaped model, or women of color on a consistent basis.
Natasha: What advice do you have for plus size women who want to join the industry as a model, blogger, influencer, etc.?
Velvet: Never be afraid to take risks. I made my career by doing what I thought was logical to me. For models who make it, the agency might want you to play it safe but it is the risk takers who pave the way. Listen to yourself and make the decision you want. Don't be afraid to show your body, modeling is generally about clothes so if you have a portfolio consisting of several hundred face close ups then you won't find work. Find what is unique about yourself and share and explore it with the world.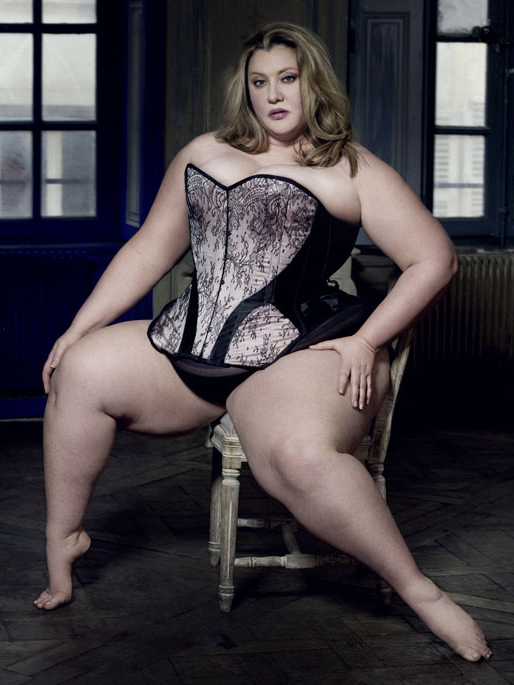 Natasha: If you could give advice to yourself in the past, how old would you be? And, what would you say?
Velvet: When I was 18 or 19 years old, when I went on a mad diet500 calories to lose a lot of weight, I would have told myself not to! To be honest, I screwed myself taking all the diet drugs that doctors convinced me I needed, from Phen-Fen to Mediator, etc. I trusted the medical establishment and ended up with terrible thyroid issues, etc. so my advice would be to not to diet!
Natasha: Where do you see future of the plus size industry?  
Velvet: I always want to see much more diversity. More plus size models. More diverse models. More body types. Plus, it is time to give kudos to the bloggers. They really made the difference to the industry. It is really powerful to see our movement born from within.
Natasha: What do have we to look forward to from you?
Velvet: I am excited to be traveling to the States where I will be offering shoots in Raleigh, NC, NYC and Rochester, NY. As well as getting our latest issue out! If anyone is interested in booking a shoot please contact me at voluptwo@yahoo.com!
Don't be afraid to take risks and question the status quo. Like Velvet says, that is the only way to really make yourself stand out and distinguish yourself. So, it was an honor and privilege to speak with this industry leader! 
Make Sure You Follow Her On: 
VOL.UP.2 Magazine Facebook Page 
XOXO 
Natasha