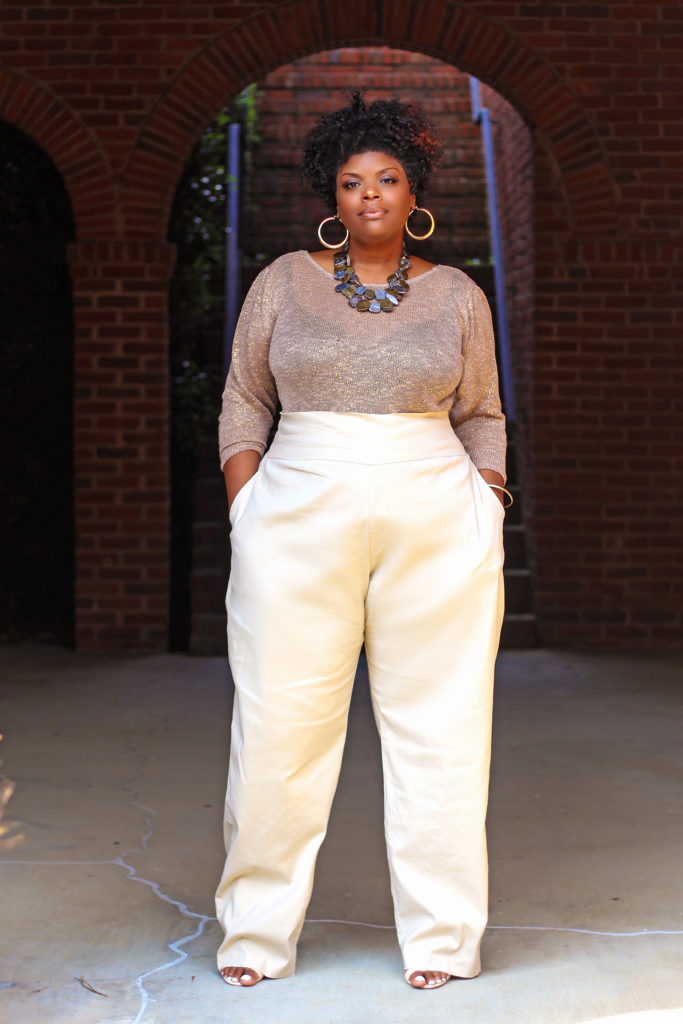 Jasmine Elder is an American fashion designer and the creator of the plus size contemporary women's label, JIBRI (sizes 10-28) 
JIBRI designs have been worn by many singers & starlets including Tamela Mann, Tasha Cobbs, Kierra Sheard, Jill Scott, Toccara Jones, Amber Riley, Brittany Howard (Alabama Shakes), Tess Holliday, Lizzo, Gabourey Sidibe & Lonnie Love.
With JIBRI, Jasmine has truly created an iconic brand within the plus size fashion industry that represents luxury, quality and beauty.
Check out my full Q&A with Jasmine below!
Natasha: What is the source of your dynamic and vibrant designs? 
Jasmine: I never went out looking for a consumer – In fact, I was my first consumer. I come from a family that always dressed well. Since I'm plus size, when I needed to get clothes, I had to create them for myself. I learned to sew and design clothes based on what I found to be naturally attractive. I don't shop or go to the mall, so I couldn't even tell you what is currently out there.
Natasha: Can you talk about your use of colors and prints in your designs?  
Jasmine: I love color and print, but I do think there is an art to having color and print presented in a sophisticated manner. With plus size clothing, people often times shy away from color and there are times when things are overdone, so I try to use color and print in an elegant manner with a clean look.
Natasha: What do you feel is missing in the plus size industry?   
Jasmine: I can't really speak to the industry in general because I don't really spend time looking at other designers. I probably should because I've been asked this a lot but I literally design my clothes organically. I've been doing this for years, and I've never polled anyone other than myself.
Natasha: As a designer, how do you get past the noise and reach your customer? 
Jasmine: I've been extremely blessed because I've had no professional marketing. I came into the industry when blogs began to be more popular and I have strong support from the early plus size bloggers. But now, with so many people and social media, it just spreads organically. I really have no formula for it.
Natasha: What is the biggest challenge for being a plus size designer now?   
Jasmine: Now, there are just a few top indie designers, whom I consider the originators, establishing all the new trends. These trends then trickle down to the big box stores who cycle from us, and I wish this was different. Now with things growing so fast, it would be great for the indie designers who are coming up with the trends to get more credit or financial backing. I've never been approached for collaborations with any larger retailers but I would often see designs that mirror my looks being sold by those retailers. But at the end of the day, it's still a big pie and everyone can get a piece of it, so I'm still glad about that.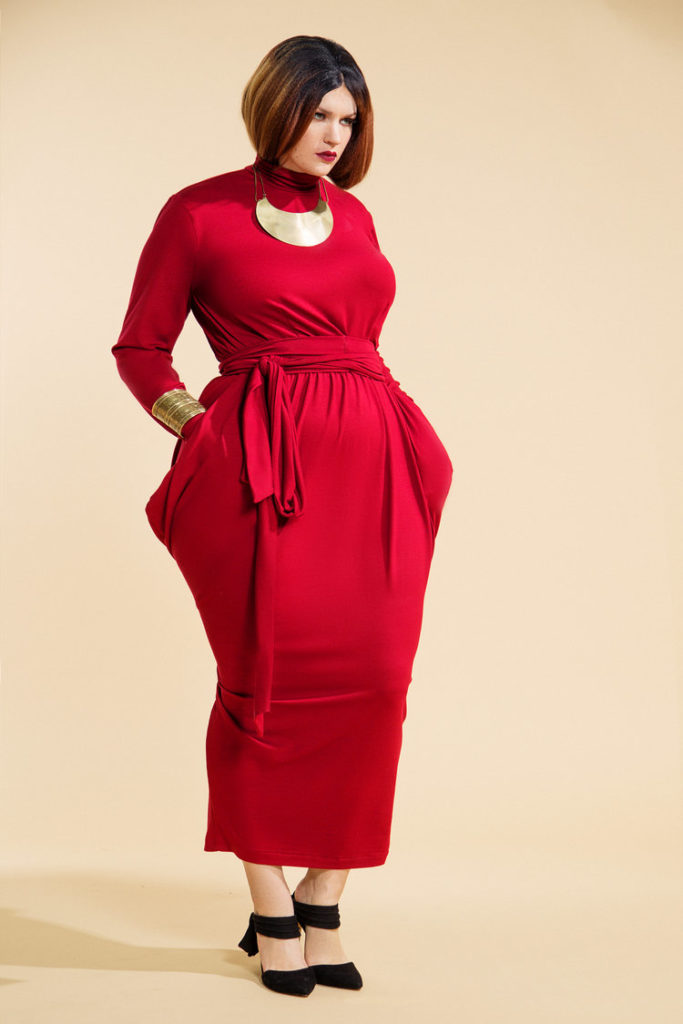 Natasha: Tell me the story of your newest bridal collection you launched this summer.   
Jasmine: JIBRI attracts glamorous and sophisticated women. I design collections for all the things they do in their daily lives. Bridal was always something that I was asked to do by my customers – who are not the traditional, first time brides. My customers are typically over 30, on their second marriage, or plan to have a destination wedding. They also tend not to want a traditional white dress, but a grey, black or pink one. After creating so many pieces privately, I thought I needed to make a collection for the contemporary brides of today. I originally created 8 pieces just to see how people reacted to them and they got a really good response, so I'm very happy about that.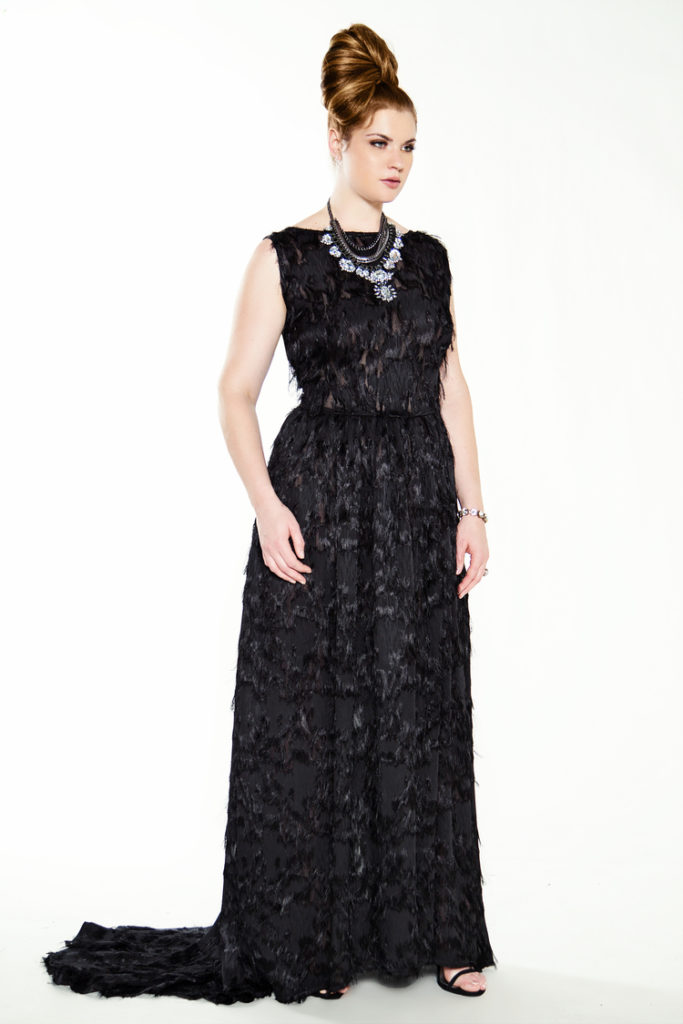 Natasha: What are the biggest complaints you hear from your customers, generally, about the industry?   
Jasmine: My biggest complaint from customers is that they can't physically get to my clothing. I would love to have a store on every corner, but it's not so simple. That's why the pop up shops have been great for me. An opportunity arose in Atlanta to test out a pop-up shop and I had women flying in from around the country to shop at my pop-up shop. I couldn't believe it, but that's what everyone wanted – to touch the clothes and see it in person. That prompted me to open my showroom in Atlanta. I try to do between 4-6 pop up shops around the world, which is better than not doing anything.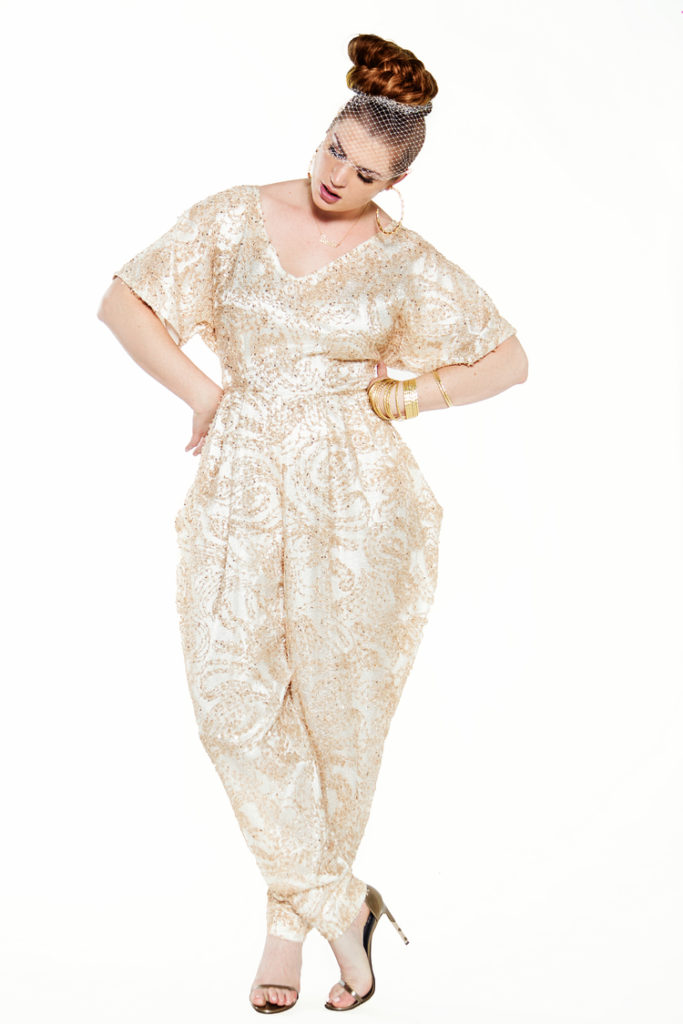 Natasha: Price and fit seem to be the biggest concerns in the plus industry. What are your thoughts on the topic? 
Jasmine: I try to price my products at a level that is fair to me financially but is also an introductory price tag to a plus size luxury item. Plus size consumers are not widely exposed to that. There is a level of education required to communicate the qualify and luxury, but not every customer cares about those things and I'm not trying to convince women who are not my customers to buy my clothes. But I'm very patient with the women who want to know the difference between a luxury designer item and non-luxury item. 
Sizing knowledge is also an issue in general. There is a difference between plus sizing from a straight size chart and a plus size chart. I do keep a very visible size chart on my website and encourage my customers to get measured because a 14 is not a 14 is not a 14. I'm very clear about the size of my clothes. You have to know your body type and measurements to understand what would look good for your specific body type – one size doesn't capture that variation. Alterations are to having a finished look. I wish there was a secret recipe for that. We're beautiful, but all so different.
Natasha: As a brand is it important to incorporate the body positivity movement with what you are doing?   
Jasmine: As far when it started growing in social media, I remember that I didn't really feel a part of it. Perhaps I misunderstood it originally, but what I saw was a lot of nudity and no spanx, and that wasn't really me. I was someone who always wore undergarments under my clothes. But as I started to see more people have different interpretations of the body positive movement, I realized it wasn't just about nudity but about embracing your skin and I realized I was telling the same message to my customers thousands of times a day. I see women beat themselves up so much and it's heartbreaking. So I realized that we are all a part of the body positive movement. I want every woman to feel confident and comfortable when she goes out in the world.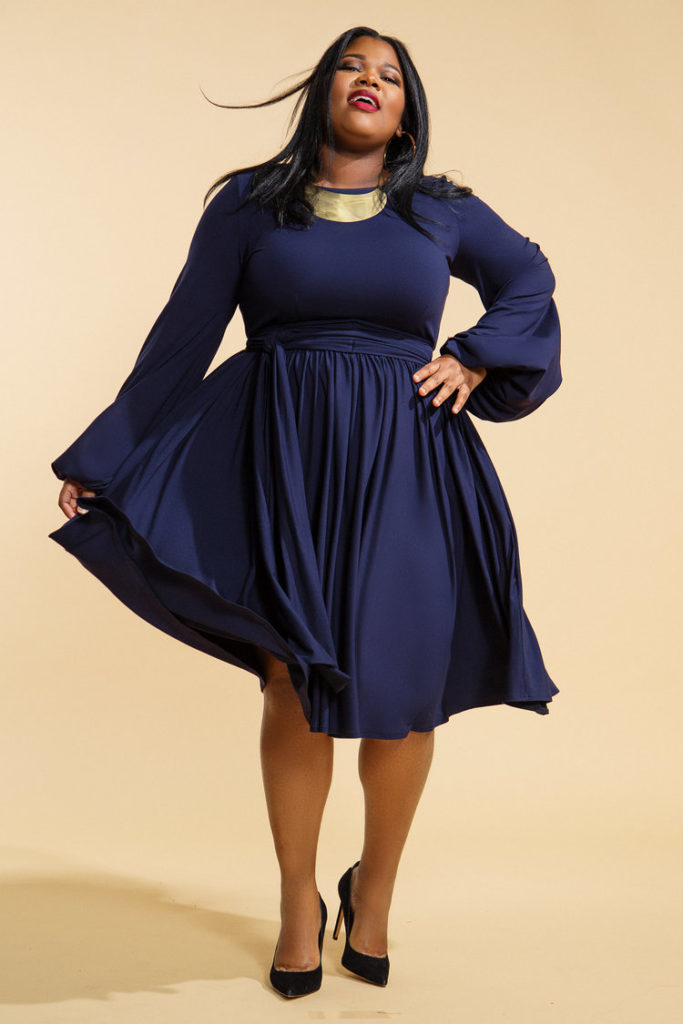 Natasha: Are there things you wish you knew before starting your own business? 
Jasmine: I should have done it a lot earlier. I've had 42 jobs, and I've always been a creator of things and love to make things beautiful. This has brought me the most amount of joy in my life. Even during the struggle and bad days, I still love every minute of it and wouldn't change any part of it. I think I'm in the right place!
As a fan of elegance, uniqueness, and creativity, I tip my hat off to Jasmine for making JIBRI a brand that so many of us love and adore. Check out the new fall collection HERE! 
~ Natasha