Have you ever felt like you were constantly being pulled in different directions and are rushing ahead at 100 miles per hour with no brakes?  For me, that feeling is a bit too familiar.  Fortunately, I have a few things in my life that help me stay grounded when I'm feeling anxious and overhwhelmed: my true loves (family, friends and furry companions) and fashion.
I view fashion as a necessary tool for success in life, and the more tools you have, the better!  However, at the end of the day, there are a few key items in my closet that I could never live without; these items serve as my armor on bad days, my comfort on lazy days, and my personal introduction to the world on all days.
I'm sure you all have your own versions of these items – take a look at my top 8 must-haves (not in any particular order)  Remember to click on the image if you wish to add these to your closet. 
1) The Black Dress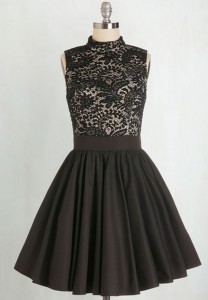 Every woman needs a black dress, whether it's sexy, cute, or professional.  Personally, I have 4 black dresses for different occasions and moods.  I really like this one here for a date or a night out – it's both flirty and chic.  Click on the image above to purchase! 
2) Seeing Is Believing   
Frames can dramatically change the way you look and feel; for instance, one of my friends recently switched to these frames featured here and when I saw her on Monday, I could barely recognize her!  It's amazing how different she looked to me, and she definitely came off differently as well. She seemed more confident and happy (I'm sure all the compliments about the look helped!) Click on the image above to purchase!  Even if you don't wear glasses, I recommend keeping a few pairs of sunglasses with different color lenses – seeing the world in different colors definitely adds another dimension to life!  
3) Comfy Flats
Most people think of heels when they think of shoes + fashion.  Don't get me wrong, I love a pair sexy heels, but on a day-to-day, I need to wear flats and have no problem finding a stylish pair to match what I'm wearing!  Click on any of the images above to purchase!  
4) Pretty in Pink
Call me girly but I love pink.  I know it's not for everyone but I think it's such a positive and cheerful color. It can soften the edge in any look.  If you're on team pink, then click on the image above to purchase!   
5) Trusty Cardigan
If you work in an office these days, then you definitely have a cardigan on hand in the summer when it feels like it's winter indoors.  We all have our favorite go-to cardigan that's just there when we need it for comfort but also looks good with almost any look somehow.  However, if you're without one, you can just click on the image above to purchase!    
6) Statement Necklaces 
They don't call it a statement necklace for nothing.  These necklaces are for the woman with an opinion. Have an outfit that looks kinda bleh or is missing that final touch?  Throw one of these around your neck and the world is yours.  Click on any of the images above to purchase!    
7) Scarves are for Lovers
Create a sense of drama by incorporating a scarf into your next look! It's an extremely affordable and diverse accessory that can be both functional and fashionable.  You can catch me wearing a scarf year round, whether indoors and outdoors.  Click on any of the images above to purchase!   
8) Bags..Bags…Bags…Everywhere I Look…Are Bags! 
There are not enough words in the english language to describe the passion I have for bags. Some members of my household might use words like "obsessive" or "unhealthy". But this is very untrue! Going around town, I need a fashionably sturdy bag to accompany me in my travels.  Whether I am hitting up a lounge, strolling around Central Park, or  heading to work…my bag needs to make a statement! Wouldn't you say the same? Click on any of the images above to purchase!     
I hope you enjoyed reading my top 8 closet must have's that make my life make sense! Comment below and let me know what you MUST have in your closet?
~ Natasha