Other than the clothes themselves, my favorite thing about the plus size fashion world is the people behind the fashion. It's one thing to design clothing for an established brand but another to also BE that brand, and Veronica L. of Tru Diva Designs is the epitome of that rare combination of Diva, designer, creator, and business woman. 
Veronica is a true visionary and it won't take long to see why when you check out her eye-catching looks. I first got a sense of her talent at FFFW NYC but am now a 100% Tru Believer of Tru Diva Designs!  
Veronica shares with me the inspiration behind her designs and why plus size women shouldn't be afraid to step out of their comfort zones when it comes to fashion!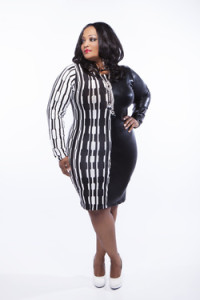 Natasha: What is the story behind the business?
Veronica: I have always loved fashion and fashion magazines. Back in the day, I had a girlfriend that would make the clothes based on sketches I made and the fabric I chose. I remember one day, that same girlfriend refused to make a dress I needed for a particular event; instead she taught me how to make it myself. I couldn't be happier that she showed me when she did. I eventually started making my own clothes and then started making clothes for other people and the business just took off from there!  
Natasha: What makes your designs different than other designers? 
Veronica: I like to mix colors and prints while maintaining structured pieces. Not everything needs to be stretchy. It is important to have versatile pieces that you can wear during the day and night. 
Natasha: What are the inspirations for your designs? 
Veronica: My inspiration comes from the fabrics! I love fabric shopping. To be honest, the fabrics inspire what I am going to make. 
asdfasdfasdf
Natasha: What are some factors a woman should about think when creating her own style?
Veronica: #1 – Know your body – A woman should know what is good for her! 
#2 – Dress from the inside out – Whether you are a size 2 or a 22, you should get proper undergarments. 
#3 – Work your outfit out!  
Natasha: What are your favorite materials to work with?
Veronica: Nylon and knit are get materials to work with.  It is good to work with material that has a little give!
Natasha: Which pieces of clothing should be in every woman's closet? 
Veronica: #1 – Little Black Dress – Regardless of how old you are, this is a must have! 
#2 – White Shirt 
#3 – Pencil Skirt 
#4 – Trousers – Black or Gray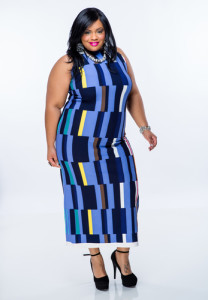 Natasha: What are the price ranges for your clothing? 
Veronica: Dresses typically start around $125 and custom pieces usually start in the $200 range. I want to be a limited edition designer, so my customers can be confident that they are wearing unique pieces when they shop at TruDiva Designs; not everyone down the block will be wearing what you'll be wearing and not every piece from my collections will always be available. 
Natasha: What will women feel when they wear your clothes?  
Veronica: Women will automatically feel confident and sexy! She will be confident without having to say anything. My customer is vivacious, sexy and sassy when wearing Tru Diva Designs.  The world should know that Tru Diva Designs is here to make every woman look and feel good!  
Natasha: What does fashion mean to to plus size women? 
Veronica: For so long, we have been put into a box. We were forced to wear those square jackets that came in a range of sizes. Just because you are a size 18, does that mean you should look a certain way? No!
Natasha: Are there certain styling tips a plus size woman should keep in mind when shopping?  
Veronica: Don't be afraid to mix prints and colors! Women should feel comfortable stepping out of their comfort zone. Also, take the time to make sure your clothes are altered to fit you; alterations are your friend! 
Natasha: What is the future for the company?
Veronica: I would like to dress more celebrities, continue building the brand, and getting the name out there!  
XOXO
~Natasha
P.S. – Please share this post and follow/like us on social media if you enjoy our content and want to see more!