We always see those commercials for hair products that are intended to tame your hair and keep it healthy. Unfortunately, those products are made for one hair type and never completely satisfied your styling needs. For years, there was no one product suitable for a variety of hair types. Then, came along Mixed Chicks.
Mixed Chicks has revolutionized the beauty market, cornering the market on products tailored for curly hair.
My hair has always been a topic of conversation from my childhood, up to now. My curls were fun, but they used to drive my mom crazy. Given the mass amount of hair that I have, I can now understand what she went through. When I stumbled upon Mixed Chicks, I was very relieved to finally find a product that just worked. At the Ashley Stewart's Rock The Block Event, I was riveted to finally meet the women behind Mixed Chicks.
Let's take a look behind the scenes of the company and find out more about the beauty mogul Wendi Levy!
Natasha: Can you describe how you came up with the ideal hair product initially when you were just doing it for personal use? Did you have any previous experience in hair care? 
Wendi: It started in the bathroom with my mom when I was little. Kim would often laugh at it because her mom is white and so didn't know much about product or dealing with textured hair while my mom went to Wilfred Beauty academy back in the 70s in Philadelphia and had her license but she always had my hair combed in place. Mixing and matching products in the 80s with hard gels for white people and there was always something really greasy for Jerry Curls. Basically mixing and matching the products from both aisles, to find something to embrace my curls without making it greasy or crunchy to find the right balance. Over the years, having tried so many products, I'd say about in 2002 when Kim and I met, most of the girls around here, in CA were wearing their hair straight because they weren't enjoying their curls. So they always asked me what I used. So I just mixed a concoction and give them a long list, it always worked better for them and made them love their curls.

Kim and I shared some notes, she added some of the things she really liked to improve on my concoction and then she was like "you know what this stuff works so good, let's put some on and see how many people say something about our hair." We couldn't make it past 5 stores without someone asking what we used in our hair. So found a lab and went to the lab with our concoction made of about 10 existing products, studied the ingredients and removed all the bad ingredients. After 3-4 trials, finally matched our formula exactly as we wanted it. We had our final leave-in conditioner in 2004 and my husband made a website and got the product up, we hit the streets with sample packs and in 2006 we added our shampoo and conditioner. We used the money we made to reinvest the money into the product.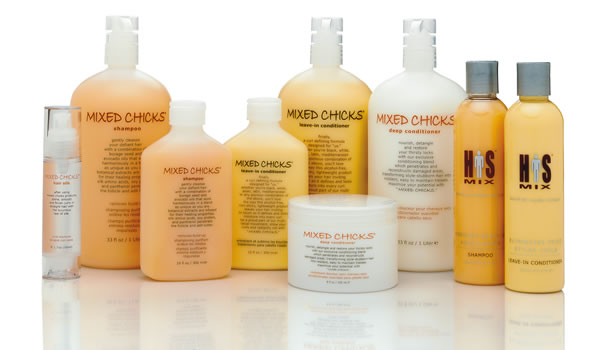 Natasha: Please shed some light for my readers on the problem that your products solve for people with hard to manage hair?   
Wendi: Everyone has to take their own approach to loving their hair and finding the right style and techniques for them. My suggestion is to go to YouTube and bloggers to find videos to see what techniques work for you with similar hair textures. There's not just one beauty image anymore, so we can all find something to identify with these days. It's really important to figure it out on your own and I wouldn't be able to tell someone exactly how they can love their hair.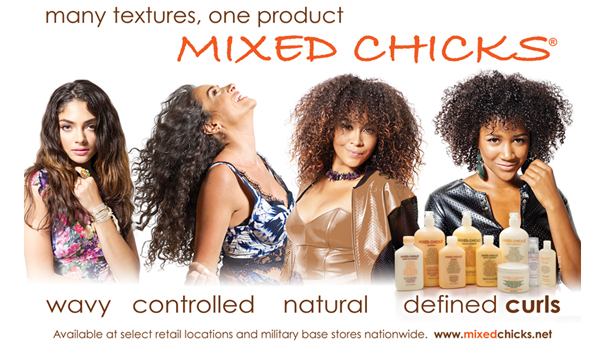 Natasha: Besides using Mixed Chicks products, what other beauty tips do you have for people with curly hair? 
Wendi: Trimming your hair regularly is very important. Curly hair, because it's angled so differently results in a lot of breakage. Never compromise length for healthy hair. A lot of people who want to get long hair don't trim their hair. When you trim it, your hair can absorb the nutrients you use and it also promotes growth. Also, conditioning your hair regularly is important. Also, use shampoo as infrequently as possible. 
Natasha: What are some things that people with curly hair often do that actually damages their hair? 
Wendi: Wear it in a bun constantly. So many people with thick curly hair always pull it back. That can cause a lot of damage especially when it is wet. And, being impatient with the detangling. Start at the bottom then gradually go higher and higher. Don't start at the root and try to rip all the tangles out.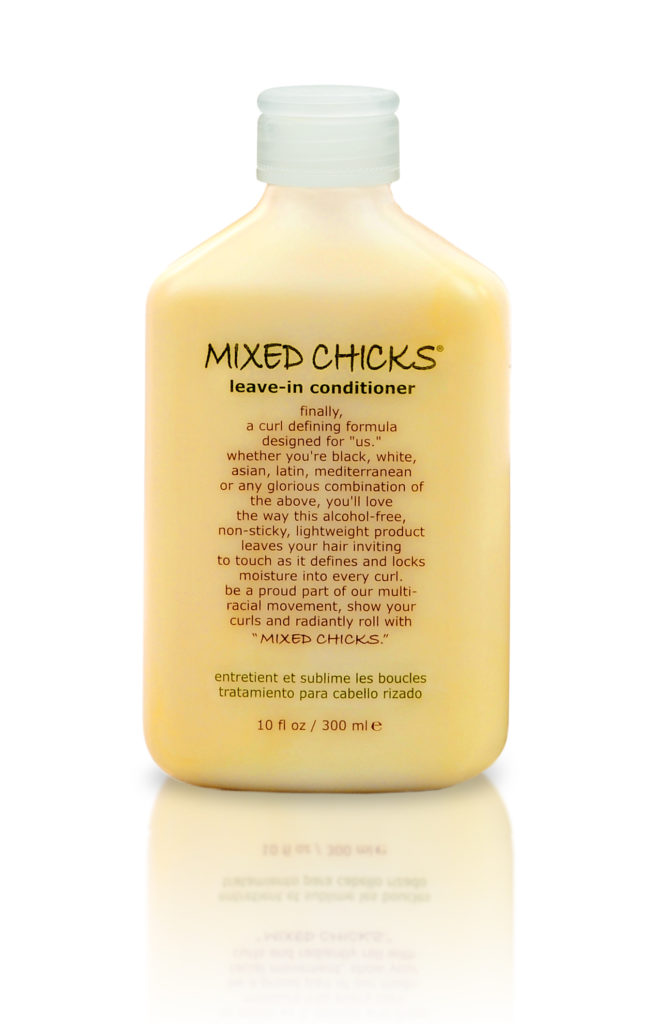 Natasha: With so many beauty products available, what advice do you have for women who feel overwhelmed by the beauty aisle?    
Wendi: Do your homework before you go to a beauty supply store. It is overwhelming and companies make so many false claims about what the product will actually do for you. What it might do for one person might not do the same for the next person. It's important to go online and find a blogger with hair texture like yours and see what products they're using. You should also check out reviews and narrow down your list of products to three and go in the store and look to the back to see what the ingredients are. 
Natasha: Given your growing male-oriented products, what should guys be paying special attention to when it comes to their hair care?   
Wendi: Our products also cater to men with curls. I wouldn't give difference advice to a man than I'd give to a woman. Hair is hair regardless of gender and our leave-in and shampoo is the same formula for women and men. The Conditioner is a little heavier for men and we added a gel for a firmer holder, which I use all the time. So it's really the packaging that's different between our products for men and women. 
Natasha: What tips do you have for other entrepreneurs who want to enter the beauty industry?    
Wendi: It is really crowded right now. Everyone's starting a new brand right now. If you are just starting, attend trade shows and speak with other businesses to see what they what they would have done differently. I'd probably ask them what mistakes they've made. I'd also highly recommend that you reach out to the people who have paved the way for us, the pioneers in the industry to get their advice. 
Natasha: What is the future of Mixed Chicks? Things we should be on the lookout for?   
Wendi: We just launched the foundation and dual stick. We're getting it out there into people's hands now, and in 2017 if people really love with the dual stick we will dive deeper in the makeup beauty industry. Look out for more products for thicker and coarser textured hair. We are just finalizing the packaging now and will be getting it to mass retail in September and they should be on shelves in January 2017. We listen to our customer and our coarser haired customers asked for more moisture so we developed the products for them.
Seeing how this company begun, let's you know that these woman are really passionate about the products they make. If you haven't already jumped on the Mixed Chicks bandwagon, now's the time to give in to your hair demands! 
~ Natasha
P.S. Stay tuned for my upcoming post where I show you why Mixed Chicks works so well for me!